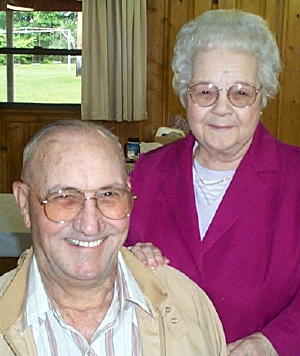 Hubert Kerby and wife Ettalean Sampson Kerby 2001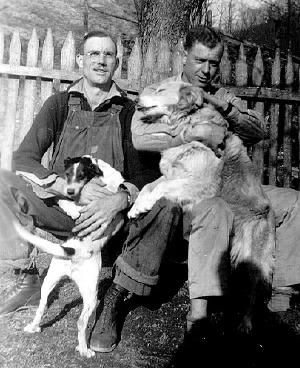 Hubert Kerby (left) and Holly Sampson on Barnes Run, about 1940
Hubert Everett Kerby, 88, of Grantsville, passed away January 18, 2009 at Minnie Hamilton Health System.
Born January 4, 1920, he was the son of the late Everett and Pearl Smith Kerby. He was a US Army veteran and a retired oil and gas field worker for Cain Oil and Gas.
Surviving, wife Ettalean Sampson Kerby; daughter, Carolyn Parsons of Millstone; son, Ronald Kerby of Grantsville; brother, Warren Kerby of Arnoldsburg; three sisters, Tessie Clutts of Lakeland, Florida, Velma McCauley of Ripley and Faustine Baker of Tennessee; three grandchildren and two great-grandchildren; several nieces and nephews.
In addition to his parents, he was preceded in death by four sisters and one brother.
Private funeral services will be held at the convenience of the family, with burial in the Gibson Cemetery at Arnoldsburg.
Arrangements by Stump Funeral Home.