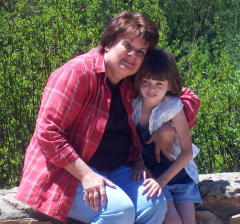 Carolyn J. "Joy" Steigleder, age 64, has gone to join Our Heavenly Father Thursday, December 11, 2008.
Joy resided in Lakewood Colorado, but spent her last days at Lutheran Hospital and Collier Hospice, where she lost the battle to the cancer that had ravaged her body.
Joy was born in Walden Colorado March 21, 1944 to Elwyn and Edith Northey. Joy took great pride in her roots and would make yearly trips there to enjoy the beauty of where she came from.
Joy spent most of her years working for Mile High Racing, where she greeted each face there with a smile and the kindness of a woman who cared for everyone that she encountered. Joy was someone who embraced life and lived it to its fullest taking anyone who had the luck and pleasure of knowing her along for the ride.
Joy was preceded in death by her father, Elwyn Northey and is survived by her loving mother Edith Northey, of Fort Collins, her loving son Shane and his wife Donna and granddaughter Sophia (whom she adored) of Munday, WV, her brother Larry, his wife Pam and her nieces and nephew Stacey, Ryan (Navy, stationed in VA) and Kayla, of Fort Collins, as well as her very best friend of many years Shey, and her beloved cat Tippy, as well as the countless friends whom loved her dearly.
As requested by Joy a celebration of her life will be held Thursday December 18, 2008 at 2 p.m. at Mile Hi Church in Lakewood (corner of Alameda and Garrison) in the H. Fred Vogt Chapel. There will be a reception following the service.
The family is requesting in lieu of flowers donations be made to breast cancer research or RMNP or the Humane Society.