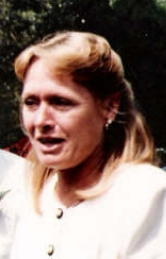 Talina L. Linville, 48 of Elizabeth, West Virginia, passed away Sunday December 14, 2008 at Camden Clark Memorial Hospital, Parkersburg, WV.

She was born March 17, 1960, the daughter of the late Ronzel Hunt and Patsy Hunt of Elizabeth.

She was a 1978 graduate of Wirt County High School. She worked for 30 years at Public Debt of Parkersburg as a Work Unit Supervisor. She dedicated her life to the youth of Wirt county, with 20 years service to Wirt Youth Football and 15 years with Wirt Youth Wrestling as well as several other organizations in the community.

In addition to her mother she is survived by her husband, Gordy Linville of 14 years; 2 sons Josh Shrader and Jacob Linville of Elizabeth; 1 step daughter, Angie Linville of Newark, WV; 1 step son, Jason Linville of Parkersburg; 1 step grandchild, Jedidiah Stutler of Elizabeth; a sister, Tina (David) Jarrett of Elizabeth; 2 brothers, John Hunt of Elizabeth and Ronnie (Lynnette) Hunt of Palestine, WV; several aunts, uncles, nieces and nephews.

Services will be 11 a.m. Friday, December 19th at Matheny Whited Funeral Home of Elizabeth with pastor Robert Watkins. Visitation will be Wed. Dec. 17th from 6 to 9 p.m. and Thursday, Dec. 18th from 2 to 9 p.m.

Donations can be made to the Talina Linville Scholarship Fund, Calhoun County Banks P O Box 129 Elizabeth WV 26143.