12/2022 - Retired Supreme Court Justice, Calhoun-connected Judge Larry Starcher, has died in Morgantown.

By Bob Weaver 2008

Back in the fabulous 1960s, we would have coffee with Earline Starcher, Larry Starcher's dad in The Grille, a fixture on the ground floor of the long-gone Spencer-Roane Hotel.

Earline and his gas company crew, like most Spencerites, took their breaks at the Grille.

He would often proudly say, "That boy of mine is gonna amount to something."

He did.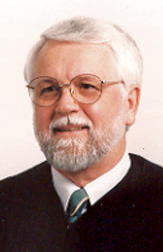 Now, retiring Supreme Court Justice Larry Starcher has been named a Distinguished West Virginian.
The award comes from Governor Joe Manchin as Justice Starcher prepares to retire at the end of this month.
His 12 year term on the Supreme Court is coming to an end.
Legal Aid of West Virginia honored Starcher with an event this week in Charleston.
Starcher opened the North Central West Virginia Legal Aid Society Office in Morgantown in 1969 and served as Director there until 1976.
From 1977 until 1996, he served as a Circuit Judge in Monongalia County, before going on to the Supreme Court in 1996.
Starcher's career ends with years of dedication to legal and social justice.
Perhaps, my favorite quote is from a decision against Massey Coal, where he said "Now three members of this Court have ruled that even though it is a fact that Don Blankenship illegally took over $60 million dollars from Hugh Caperton - he can get away with it scot-free. Talk about crime...!"
He called it "horse puckey!"