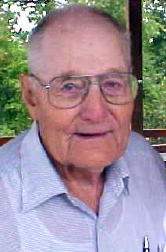 Leon B. Whipkey, 93, of Parkersburg, West Virginia, passed away December 4, 2008 at St. Joseph Hospital, Parkersburg.

Born in Calhoun County he was a son of the late Abe and Daisy Church Whipkey.

Mr. Whipkey had been a member of Eureka Lodge #40 A.F. and A.M. in Grantsville for over 60 years. He served as deacon for Chapel Baptist Church at Nobe for many years and was a member and deacon of Auburn Baptist Church. He was a former right-of-way contractor for 17 years and was an avid outdoorsman who enjoyed hunting, fishing and gardening. He was a well known gospel singer and had taught shape notes music since 1936.

Surviving are his wife, Nina Simmons Whipkey whom he married August 17, 1938; 2 sons, Garriel (Molly) Whipkey of Tumwater, Washington, and Merrill (Rosie) Whipkey of Wayne, WV; 2 daughters, Janice K. Jones of Pennsboro, WV, and Becky Nichols of Parkersburg; 15 grandchildren, 21 great grandchildren, and 6 great-great grandchildren.

Funeral services will be held 11 a.m. Monday, December 8 at Stump Funeral Home, Grantsville, WV. Rev. Harry Drake will officiate. Interment will be in the Nobe Cemetery with Masonic Graveside Rites.

Friends may call at the funeral home from 3 to 7 p.m. Sunday and one hour prior to services Monday.