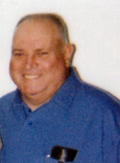 Harry Dwane Tallhammer, 70, of Stumptown, West Virginia, passed away December 2, 2008 at his home following a brief illness.

Mr. Tallhammer was born at Lockney, Gilmer County, WV, a son of the late Leonard Burnell Tallhammer and Dollie Mabel See Tallhammer. He was a school bus driver for the Calhoun County Board of Education and was a US Army Veteran. He attended the Glenville Community Church and the Rush Run Baptist Church.

Surviving are his wife Iris Loraine Baughman Tallhammer and a daughter, Rebecca Lynn Tallhammer Butler of Stumptown; 3 brothers, Parker Eugene Tallhammer of Glenville, James Guy Tallhammer Tallhammer of Cox's Creek, Kentucky, and Robert Lytle Tallhammer of Elyria, Ohio; and over 40 nieces and nephews.

In addition to his parents he was preceded in death by 4 brothers, Junior B. Tallhammer of Elyria OH, Samuel Tallhammer of Smithville WV, Nathan George Tallhammer of Auburn WV, and Clarence Monroe Tallhammer of Grafton OH; 2 sisters, Ruby Jean Wood of Stumptown and Cathern Marie Suttle of Coolville OH.

Funeral services will be held 11 a.m. Saturday, December 6 at Stump Funeral Home, Arnoldsburg WV. Reverends Randy Wilson and Ben Kerby will officiate. Interment will be in the Turner Union Cemetery at Lockney with Military Graveside Rites.

Friends may call at the funeral home from 6 to 8 p.m. Friday.