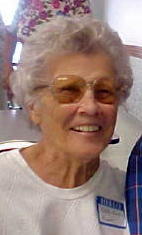 Edith Virginia Smith, 88, of Grantsville, West Virginia, died November 12, 2008 at Eldercare of Ripley.

She was born on Zekes Run, Calhoun County, WV on April 1, 1920, the daughter of the late Warder Everett and Ethel Poling Stump. She was a Christian and a member of First Baptist Church of Grantsville. She worked as a bookkeeper and parts clerk, along side of her late husband of 67 years, Herbert C. Smith, Sr. Both retired in 1985 from Smith's Auto Parts.

She is survived by a sister, Eulanee Hathaway of Grantsville and seven children, Carol (Tom) Lewis of Longs, SC, Herbert "Chuck" Smith, Jr. (Barbara) of Washington, WV, Judith (Charles) Swisher of Ripley, WV, Lewis Smith and friend Lou Grimm of Belpre, Ohio, Nellie (John) Beckett of Parkersburg, Allen (Debi) Smith of Arnoldsburg and Keith Smith of Grantsville.

Also surviving are 17 grandchildren, several great grandchildren and one great-great granddaughter.

She was preceded in death, in addition to her parents and husband, by four brothers, Dallas, Edwin, Baxter and Junior Stump and one sister, Leone Kellar.

Funeral services will be held at 2:00 p.m. Saturday, November 15, 2008 at Stump Funeral Home, Arnoldsburg. Rev. Greg Swisher will officiate.

Interment will be in Sand Ridge Cemetery. Visitation will be held from 6-8 p.m. Friday evening.

The family requests that memorial donations be made to First Baptist Church of Grantsville, P.O. Box 237, Grantsville, WV 26147 or to the Calhoun County Park Barn Fund, P.O. Box 276, Grantsville, WV 26147.