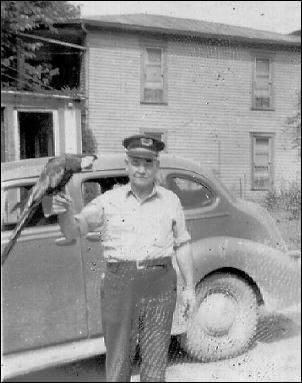 Dudley Lutz with Bob the Parrot on Grantsville Street
By Bob Weaver
Dudley Lutz was a longtime Grantsville policeman, a tenure likely stretching from the late 1920s to the 1940s. He had the official title of Town Sergeant.
Lutz was one of Grantsville's well-known photographers, who also operated a shoe shop. Unfortunately, his large photo collection has long been lost.
In the 1930s he photographed Robert Pershing Wadlow, the world's tallest man, who was visiting Grantsville, and much earlier took photographs of the construction of Grantsville's first bridge across the Little Kanawha. (See Links Below)
Former Grantsville resident David Hathaway recalls that Lutz had worked earlier in the oil fields in South America, from whence he brought back a pet Macaw parrot.
Bob the Parrot was well-known to Calhoun citizens, having developed an extensive vocabulary of popular off-color words, which he tended to recite when citizens would walk by Lutz's house or shoe shop.
Lutz had developed a sort of interesting construction in his front window which allowed Bob to come and go in good weather, said Hathaway, who recalls helping clip Bob's wings so he could not fly far away.
"But I remember many occasions when Bob could be seen flying about town, a rare sight of brilliant tropical plumage soaring above the trees," Hathaway said.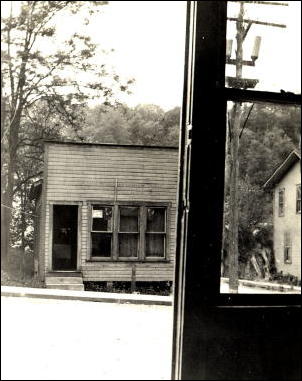 Lutz operated a shoe repair shop at the corner of
Mill and Court street, where Bob the Macaw hung out,
sharing his broad vocabulary with folks who passed by
Dudley Lutz died while chasing a Grantsville suspect in 1944 at the age of 68, after which, Bob was given to a Cleveland zoo since none of Lutz's family lived in Grantsville.
He is buried in Bethlehem Cemetery.
"Years later his daughter Mary wondered if the bird was still alive and went to the Cleveland zoo. The personnel at the zoo were of no help, but directed her to a large flight cage where many Macaws were held. Since she could not differentiate one from another, she cried out for Bob.
One Macaw flew down and held onto the cage directly in front of her, saying, "Hello Mary," according to Hathaway.
"I recall another occasion when Bill Reed was chasing me down Mill Street passing the Lutz house which was located behind the Rainbow Hotel."
"Bob was in a cage on the front porch and as we passed the parrot called out for Bill," Hathaway remembered.
Lutz was among the first to arrive when Calhoun High School caught fire in 1941. The officer was the keeper of the town's fire hose wagon, before there was a motorized fire truck.
After the school burned, classes were held around town. Study hall was held in the American Legion Hall and classes changed on the sounding of a large dinner bell, hung outside by Dudley's shoe shop.
Grantsville's Modern Bridge (Lutz Photographs)
Dudley Lutz, Pearl Kelley And Courthouse Construction

Sunny Cal Journal: Thugs, Hell-Raisers And The Highly Impaired