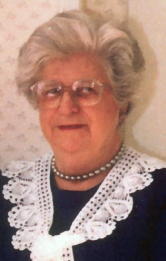 Maxine Looney Epling Lewis, 92, of Kenova, departed this life Wednesday, October 8, 2008, at Heartland of Riverview, South Point, OH, after an extended illness.

She was born July 2, 1916, in Parkersburg to the late Clyde and Chessie Looney of Looneyville, WV. In addition to her parents, she was preceded in death by two husbands, Frank James Epling and Walter Lewis, a son, Ben Epling, and a brother, Don M. Looney.

Mrs. Lewis was a former employee of the Sample Shop in Kenova. She was a devoted Christian and at age 16 began teaching Sunday school at the Epling Chapel Baptist Church, Looneyville. Maxine was a member of the First Baptist Church of Kenova, where she taught Sunday school for all ages and where she sang in the Saints Alive Choir. As a missionary, she helped start the Oakview Heights Missionary Baptist Church in Kenova.

Survivors include one son and two daughters-in-law, James C. (Melissa) Epling of Russell, KY, and Glenda Epling Shrevesport, LA; one daughter and son-in-law, Nancy R. (Greg) Smith of LaVale, MD; six grandchildren, Debra (James) Easley and James E. Epling, both of Keithville, LA, Joshua J. Epling of Dayton, OH, Richard F. Flynn, Jr. of Kenova, and James F. Flynn of Huntington, G. Gregory Smith of LaVale, MD; three great grandchildren, Casey Nicole and James Michael Easley, and Gavin Jay Flynn.

A funeral service will be held Sunday, October 12, 2008, at 2:00 p.m. in the John H. Taylor Funeral Home, Spencer, WV. Burial will follow in the Clover Cemetery, Clover, WV.

Friends may call from 6 to 8 p.m. Saturday, October 11 at the First Baptist Church, Kenova and again on Sunday, October 12 from noon to 2 p.m. at the funeral home in Spencer.