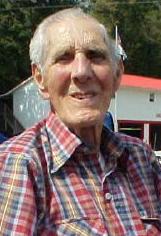 Norville McCune, 89, of Orma, West Virginia, passed away October 7, 2008 at his home following a sudden illness.

Born at Orma, he was a son of the late Peter M. and Willa Bourne McCune.

He was a US Army Veteran of WWII. He enjoyed farming, was a leather craftsman, horseman and was a well known coon hunter and gun and knife trader.

Surviving are several nieces and nephews.

In addition to his parents he was preceded in death by four brothers, Dowe, Vance, Bruce, and Ralph McCune; and a sister, Stacy Allen.

Graveside service will be held 1 p.m. Sunday, October 12 at the Orma United Methodist Church Cemetery. Friends may call at the church one hour prior to the service.

The family requests flowers be omitted and contributions be made to the Orma United Methodist Church.

Stump Funeral Home, Arnoldsburg is in charge of arrangements.