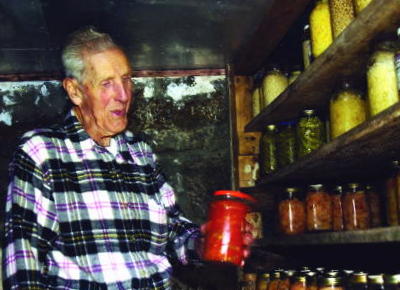 Norv inspects the stockpile of fruit and
vegetables he and Bruce raised each year
By Bob Weaver 2008
Norville McCune will return to the earth with a graveside service Sunday at 1 p.m. at the Orma United Methodist Church Cemetery, a simple burial.
Seems fitting for a man who held to the sod and a life-style that is rapidly fading.
His obituary says he was a farmer, blacksmith, leather craftsman, horseman, coon hunter, gun and knife trader.
Norv said of his past, "People lived the way they're supposed to," whether it was apple peeling, canning, cutting corn, or putting up hay, neighbors would put out the call and others would come to help. Especially in times of need.
At a West Virginia Molasses Festival, he reveled in his family history, saying "History was written on a horse," asserting that one of the early trails through Calhoun "came right down the holler by my house."
Norv was a descendant of the "original" Peter McCune, a Revolutionary War soldier and acquaintance of Daniel Boone.
I must say my life has been made a little better by spending time with the McCune boys, his brother Bruce passing in 2006.
Norv spoke about the Great Depression, hard times, struggles and his ability to overcome countless hurdles with hard work and perseverance.
I marvel at countless government officials and media pundits who have been commenting on the greatest crisis to strike America since the depression years, saying it is all too complicated for Americans to understand.
Norv understood it well.
Maybe sometime I can pass his simple message on to you.
McCune Boys Recall Ole Peter (1999)