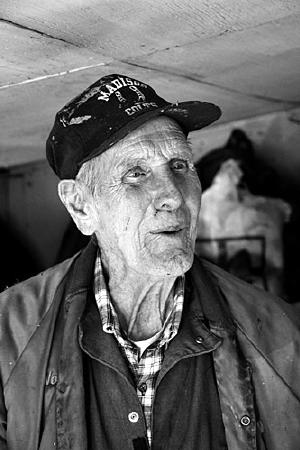 Photo by Chet Dowell
2008
Norville McCune, a World War II veteran, died out in his field yesterday up on Crooked Run near Orma.
Norv, who was nearing 90, was cutting weeds when he fell to the ground, dying with his boots on.
He certainly would have wanted it that way.
He was among the last of the county's old-time farmers, and last of the "McCune Boys," among Calhoun's most fascinating citizens.
Norv and and his deceased brother Bruce held to practices, customs and ideas associated with life in the backwoods of Calhoun County.
The men were direct descendants of "Ole Peter McCune," who plays a significant role in the pioneer history of Calhoun.
Norv, a blacksmith, made me a heavy hoe to dig through the clay soil in Hur. I went over in the garage to look at it this evening, thinking I'll not likely get another like it.
During our last visit on the creek, he often said "If I live long enough, I want to ..."
Norv, you lived long enough for your life to be a joy to the people of Calhoun and around the USA who have enjoyed reading about your time on earth.