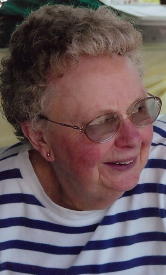 Glenna Marie Norman Miller, 73, of Normantown, West Virginia, surrounded by her loving family, went home to be with her Lord on September 12, 2008 following an extended illness at Charleston Area Medical Center.

Glenna was born at Shock on November 11, 1934, a daughter of the late Escue (Eck) and Edna Lambert Norman of Stumptown WV.

She is survived by her loving husband of 55 years, Rondel C. Miller; three daughters, Shirley J. Dawson of Greenwood SC, Deborah S. (Roger) Harris of Wooster OH; and Karen M. (Eugene) Queen of Lockney WV; and one son, Randy R. Miller of Normantown.

Glenna is also survived by her beloved 8 grandchildren and 8 great grandchildren; three sisters, Lela Keim of Meyersdale PA, Kate (George) Miller of Windham OH, Patty (Gene) Miller of Stumptown; three brothers, Brooks (Carolyn) Norman of Aurora OH, Jerry (Bonnie) Norman of Norton OH, and Dale (Sheila) Norman of Stumptown.

She will be sadly missed by many nieces and nephews.

In addition to her parents she was preceded in death by one granddaughter, Megan Blanche Queen, and twin grandsons, Dean and Keith Dawson.

Glenna was a member of the Shock Church of Christ. She retired December 1999 after 24 years of dedicated service to the US Postal Service. She was active in several community and civic organizations, including the American Red Cross, the Normantown High School Alumni Association (at times service as an officer), was on the Board of Directors of Minnie Hamilton Health Care Systems, enjoyed bowling in the Glenville State College League, served as a volunteer EMT in Gilmer County, and was involved in, and was a leader in the Girl Scouts for years while her daughters were young.

Funeral services will be held 1 p.m. Monday at the Steer Creek Church of Christ at Stumptown. Gene Miller and Vernon Kerns will officiate. Interment will be in the Collins Community Cemetery, Stumptown. Friends may call at Stump Funeral Home, Arnoldsburg WV from 6 to 9 p.m. Sunday and one hour prior to the services at the church on Monday.