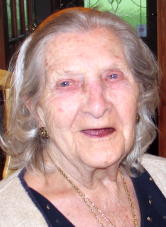 Mary Kadera, 90, of Gandeeville, West Virginia, entered into eternal life on Friday, September 5, 2008.

She was born July 17, 1918 in Youngstown, Ohio, the oldest daughter of Andrew and Maria (nee Pavlov) Haso of Sacurov, Czechoslovakia. In addition to her parents, she was preceded in death by her husband, John, and her son, John Andrew.

With her infant sister and mother, Mary left the United States at the age of 2. She lived in Czechoslovakia and escaped at the age of 18 after Hitler annexed the country. She settled in Trenton where she lived for 45 years. Her various work experiences included working on a farm, in a cigar factory, a parachute factory, and the steel mill. She left the work force to raise her children but returned and retired as a custodian for the Home Furniture Company in Trenton. She spent 23 of her retirement years in New Hope, Pennsylvania and her last 4 years in West Virginia.

Mary was a member of Saints Peter & Paul Church (Trenton), St. Michael's (Trenton), and Holy Redeemer (Spencer) Catholic Churches.

Survivors include one daughter, Mary Ann Klicka of New Hope, PA and Gandeeville, WV, a son-in-law, Vincent Klicka of Gandeeville, one sister, Anna Lasky of Trenton, one niece, six grandchildren, five great-grandchildren, and a very good friend, Will Meadows.

Mass of Christian Burial will be held at St. Michael's Church in Trenton on September 27, 2008 at 10 a.m. Friends may call at the church one hour prior. Interment will be at St. Peter & Paul Slovak Catholic Cemetery.

Cards may be sent to Mr. & Mrs. Vincent Klicka, 305 Hinzman Hill, Gandeeville, WV 25243. Flowers will be accepted at St. Michael's (1130 Brunswick Ave. Trenton, NJ 08638) the morning of the funeral.

John H. Taylor Funeral Home, Spencer, is in charge of local arrangements.