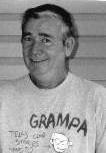 Danny R. "Duke" Jett, 63 of Looneyville, West Virginia went to be with the Lord after struggling with a long illness on September 7, 2008 at CAMC Memorial Division Hospital.

He was born in Charleston, WV on August 8, 1945 a son of Thelma Smith Jett and the late Erston "Herb" Jett. In addition to his father, he was preceded in death by one brother, Larry R. Jett; one niece, Sarah Beth Jett and one nephew, Daniel Stephen Jett.

In addition to his mother, he is survived by his wife of 39 years, Sue Jett; two sons Danny Ray Jett, Jr. and his wife Dawn and Jason Mark Jett and his wife Kelly; four grandchildren Chelsea, Stephen, Evan and Benjamin "Noah" Jett; brothers Ronald and his wife Nina, Blake and his wife Shirley, Jimmy and his wife Roseanne, Terry and his wife Janet; sisters, Cathy Foster and her husband Larry and Judy Myers and her husband Roger; several nieces and nephews; a host of friends and his canine companions, Buster and Izzy.

He is a retired carpenter and served in the Army in the Vietnam War. He was a charter member of the Landmark Baptist Church. His hobbies included coon hunting, farming, fishing and camping.

Visitation will be at the John H. Taylor Funeral Home in Spencer on Wednesday, September 10, 2008 from 6-9 p.m. Services will be 1 p.m. Thursday at the funeral home. Burial will follow at the J. Herbert Smith Family Cemetery on Vineyard Ridge Road, Looneyville, WV.