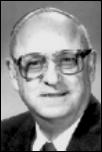 Othel Hugh Starcher, 88, of Rittman Ohio passed away September 4, 2008.

He was born August 7, 1920 at Letherbark, West Virginia, a son of the late French and Zona Mace Starcher.

He was a WWII veteran serving in the US Army in Japan and the Philippines. Othel retired from PPG Industries with 35 years service and was a member of the Barberton Seventh-Day Adventist Church. He enjoyed his hobbies of carving ducks and gardening.

In addition to his parents he was preceded in death by his wife, Eleanor Whytsell Starcher, in 2001; and brothers, Clarence and Gene, and an infant sister. He is survived by daughter, Patricia A. Starcher, and numerous nieces and nephews.

Special thanks to the wonderful and dedicated staff at Wadsworth Pointe, Dr. Jeffery Kontak, Andrea Galehouse, and Hospice of Greater Wayne County for their kind and loving care of Othel.

Funeral service will be Wednesday, September 10, 2008 at 11 a.m. at Cox Funeral Home, 222 Norton Ave., Barberton with Chester Hitchcock officiating. Burial will be in Greenlawn Cemetery.

Family will receive friends Tuesday from 6 to 8 p.m. and one hour prior to the service.

In lieu of flowers, contributions can be made to the Barberton SDA Community Service Center, 223 Second St. NW, Barberton, OH 44203.