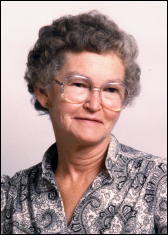 Sibyl G. Hunt, 89, of Looneyville, West Virginia, died Thursday, September 4, 2008, in CAMC-General Hospital, Charleston.

She was born June 16, 1919, at Nebo, Clay County, a daughter of the late Perry and Lela Hamrick Mollohan. In addition to her parents, she was preceded in death by her husband, Shirley R. Hunt in 1984; one grandchild; one great grandchild; five brothers and three sisters.

Sibyl was a retired employee of the Spencer State Hospital, a member of the Henry's Fork Baptist Church, Tariff, and a member of the Three Forks Senior Center, where she enjoyed quilting.

Surviving relatives include sons, Lovell Hunt of Leroy, and Lee Hunt of Sterling, OH; daughter, June Ferguson, of South Point, OH; sister, Bertha White of Charleston; 19 grandchildren, 39 great grandchildren, and 18 great-great grandchildren.

A funeral service will be conducted Monday, September 8 at 11:00 a.m. in the John H. Taylor Funeral Home, Spencer, with the Rev. Robert A. (Bob) Keen officiating. Burial will be in the Laughlin Cemetery, Newton.

Friends may call at the funeral home Sunday from 6-8 p.m.