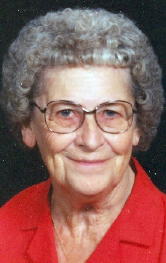 Virginia E. Santee, 84, of Reedy, West Virginia, passed away September 3, 2008, in the Miletree Center, Spencer, WV.

She was a member of the Reedy United Methodist Church, the Reedy Lions Club and the Reedy Senior Citizens. She was a retired employee of Kellwood Company, Spencer.

Survivors include a son and daughter-in-law, Lonnie and Sandy Santee of Reedy; grandson, Erik of Austin, TX; great grandson, Zack of St. Albans, WV.

A funeral service will be held Sunday, September 7 at 2:00 p.m. in the John H. Taylor Funeral Home, Spencer, with Bro. Bill Walton officiating. Burial will be in the McClung Cemetery, Reedy.

Friends may call at the funeral home one hour prior to the service.

Lonnie and Sandy would like to thank Dr. Christiansen, Roane General Hospital and Miletree Center for the care they gave to Mrs. Santee.