This year's Whytsell Reunion Sunday, August 1, will have been held for well over 40 years at the Whytsell Park (Altizer Road) between Rocksdale and Richardson.

Covered dish dinner will be served at 1 p.m.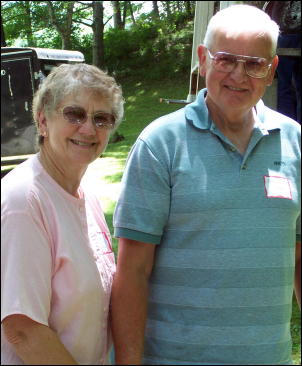 Peggy Whytsell Stemple and husband
Marvin carry on a Calhoun tradition
2008
The Whytsell Reunion was held yesterday for the 30th year, with direct and distant family members, and lots of friends attending.
Peggy Whytsell Stemple welcomed the visitors to the Whytsell park grove, she and her husband Marvin have taken over the reigns of the event, now that her parents, Blanche and Randall have passed.
Missed was Randall and his brother Woodrow taking the stage to sing "My West Fork Valley Home," but Arnoldsburg resident Charlie McKown belted out the tune with admirable passion.
Albums of earlier reunions have the names and faces of a multitude of community members and visitors who have now passed.
The Whytsell Boys had been an entertainment fixture in Calhoun for over 65 years.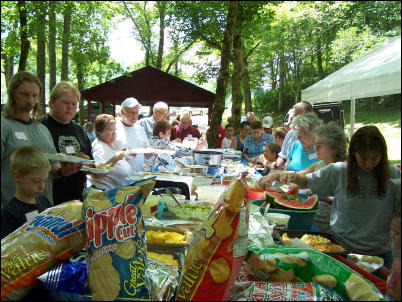 Randall and Blanche would be happy so many people
filled their tummies with homemade country cookin'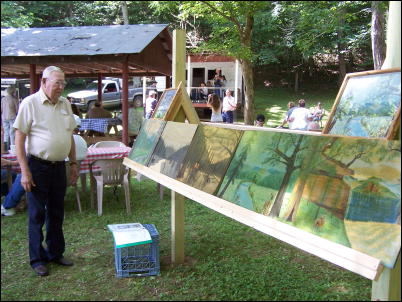 Gene Whytsell views primitive paintings by his father Edwin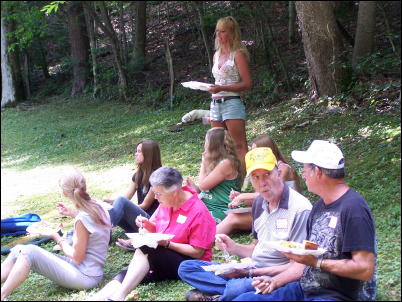 Literally "dinner on the ground"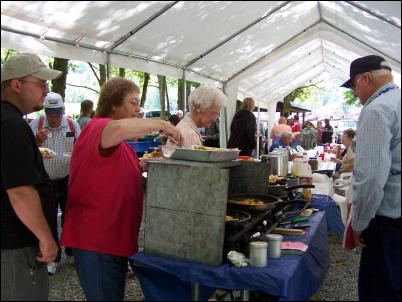 Jim Bell's "Fish and Pickle" Company delights hungry folks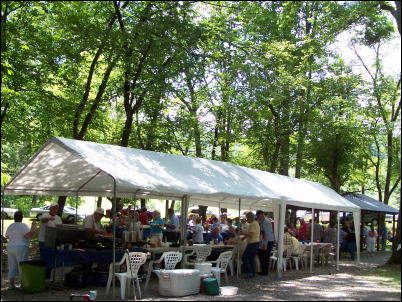 People enjoy an afternoon in the grove along the West Fork
Randall was one of the area's best storytellers and historians.
This year the reunion featured a display of the primitive paintings of Edwin Whytsell, Randall's dad. See HH story Whytsell Remembered For Primitive Paintings
Through the dedication of Randall and Blanche Parrill Whytsell, the event has become one of the county's biggest reunions, attended by friends and acquaintances from all over.
In other words, you don't have to be a Whytsell.
Several of the visitors brought their plastic jugs to fill with water from the free-flowing Hart spring, named for Civil War renegade Nancy Hart, whose family once lived nearby.
The Whytsell's came from the Shenandoah Valley to Lewis and Braxton counties, settling in Calhoun during the Civil War, marrying into the Lynchs, Andersons and Starchers, among other early families.
Edwin and Rettie Starcher Whytsell, were fixtures on the lower West Fork of the Little Kanawha, between long-gone Rocksdale and Richardson for much of the last century, their home established in 1922 above the Village of Richardson.
Peggy said the reunion, while having some great country food, is "mostly about visiting," a quickly disappearing social tradition.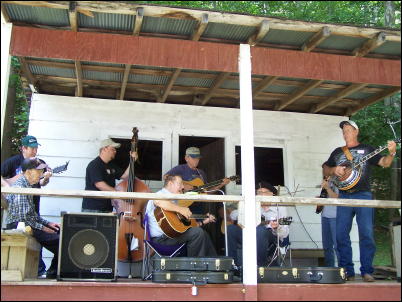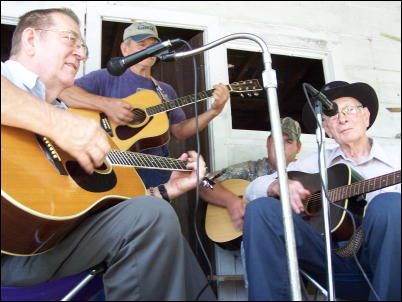 Also missing from the stage this year was Herb
Smith, but music makers entertained the crowd