ALASKAN NATIVE TALKS ABOUT LIFE AND TIMES IN 2008 VISIT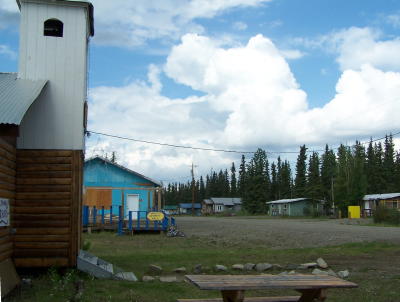 Native village of Tanacross now home to
Athabaskans, Christian church to the left,
built by elder Kenny Thomas and his wife
Athabaskan Alaska natives have called the Last Frontier
their home for thousands of years - "It is about life
and living things, no matter what we're led to believe"
Hur Herald Photos
By Bob Weaver - Tok, Alaska, July 2008
Alaskan natives are facing severe problems paying their electric bills, a modern convenience brought to them by the white man.
Actually, all Alaskans are experiencing the problem.
Most electric generation is done with diesel fuel in rural Alaskan communities, diesel sometimes costs up to $8.50-a-gallon when it is delivered by air (Just think about fuel costs in 2023).
In Yukon Flats, the power is cut at 10:30 p.m. and turned back on in the morning.
Electric bills, even with bare-bones appliances, are running between $300-$600 a month.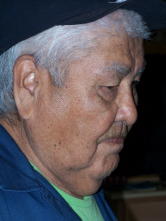 "There is no more freedom for me," said Athabaskan elder Kenny Thomas (pictured left), lamenting the loss of rights to maintain life through subsidence fishing, hunting and gathering.
"I have to buy a hunting and fishing license just like you do to survive on what was once my tribal land," said the 87-year elder of Tanacross, Alaska, a native village just off the Alaskan Highway near Tok.
"We're only allowed to kill one moose a year," he lamented.
Thomas said the government has mostly taken away that which belonged to his people in the Yukon River area near the Arctic Circle.
He said it is about controlling and owning natural resources, giving it to the developers, extractors and absentee owners.
"The government favors them, the big boys," Thomas said.
I mentioned West Virginia, from which billions of dollars of resources have been removed, but still remaining near the poorest in the nation.
"I understand that well," he responded.
He asked about the fish in our streams and rivers, and I told him fewer and fewer are sustaining life, polluted and poisoned.
"We even have advisories not to eat many fish, because they are tainted," I said.
"Why don't you people care?" he asked.
After some thought, I responded, "Many fear that extraction jobs will be lost, while others just believe there is no use fighting the "big boys."
"Others don't care unless it strikes them personally, out of sight, out of mind," I said.
"We are paying a big price for such doings," said Thomas, "and we will lose, lose, lose."
"It is about life and living things, no matter what we're led to believe," he said, expressing concern about genetically altered seeds and growing your own food.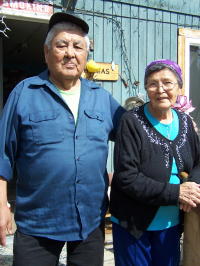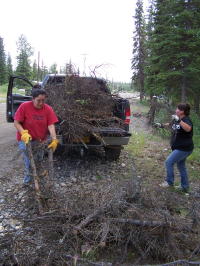 Kenny and his wife Ellen, married 60 years (left)
village residents help with clean-up day (right)
The soft-spoken Thomas, healthy for his age, lives in his native village Tanacross, home to about 200. He has been married to Ellen for over 60 years, with five of his daughters living in the village and his three sons "working away."
"I raised all my brothers and sisters after both my parents died when I was twelve," he said. They died early during a TB and flu epidemic.
Fishing, hunting, growing and gathering during the Great Depression, Thomas said he went to a big town in the late 1930s and learned about America's financial collapse and hard times. "We didn't even know it was going on," he said.
His first experience from the Alaskan wilderness was going off to World War II. "Those Japs shot at me and I shot back," he said.
"I spent most of my Army time in a foxhole, and sure didn't get three squares a day,"
"Being an alcoholic, I was blessed by getting sober nearly forty years ago," he said, after which he was a drug and alcohol counselor to his native people.
Over the years he has taught survival courses, "A way of life that is being lost, living from the earth and not the supermarket."
Speaking about the melting of glaciers and the thawing of the polar ice cap, he said "This is new to us, not in the past thousand years. It should be frightening to the human race."
I mentioned that America's corporations believe it is an act of God, a weather cycle.
"Poor God, they always blame him for all the bad things those corporations do, but I hear he's got some big shoulders."
"If we follow those corporate boys spin, nature will just melt down and we'll die," Thomas said.
He said on his land, the permafrost has dropped five feet. "Never before, never before."
Thomas also conducts a Cultural Camp for native people, teaching his tribe's original language, music and dance.
A number of his tribe are completing college. "They're helping us a lot, organize, stand up for our rights," he said.
Tok residents say Kenny is the "glue that holds the people of his village together," a man of strong character.
"I was born with a gun and pole in my hand, and I can still live from the land," he concluded.
Alaskans share in the extraction of natural resources, a novel concept where each man, woman and child actually gets an annual check from the extraction, this year it is estimated to be $2,000.
Extraction of resources has benefited the citizens, with no income or sales tax.
In West Virginia, the government gets proceeds generated from extraction, and the state is 49th in citizen wealth.
- Kenny Thomas, Sr. was born in 1922, and has done many things in his lifetime and seen many changes. His oral autobiography - "Crow is my Boss" - describes his life as a trapper, firefighter, prospector, alcohol and drug counselor, road-builder, river-freight hauler, and soldier. It documents his growth into a song and dance leader of his community and teacher of traditions.
- The Athabaskan tribe has lived in the upper Yukon region above the Arctic Circle, a vast hunting and fishing region of 10 million acres which extends into Alaska, where record temperatures fall to -70 degrees.
- Kenny Thomas and his wife are now deceased since the interview