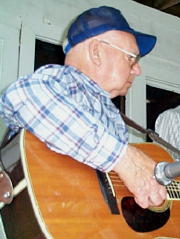 Herbert C. Smith, Sr., 87, of Grantsville, West Virginia passed away Saturday, July 26, 2008, at his home.

He was born on Pine Creek, Calhoun County, the son of the late Clarence Sheridan and Nelle Mae (Holpp) Smith.

He worked in Baltimore, Maryland shipyards as a welder during World War II. He was later drafted into the Army Company B 31st Engineers Training Battalion as a heavy equipment mechanic. He worked for Cabot for 10 years before starting his own business, Smith's Auto Parts, retiring in 1985.

He is survived by his wife of 67 years, Edith V. (Stump) Smith and his children, Carol (Tom) Lewis of Longs, SC, Herbert "Chuck" (Barbara) Smith, Jr. of Washington, WV, Judith (Charles) Swisher of Ripley, WV, Lewis Smith and friend Lou Grimm of Belpre, Ohio, Nellie (John) Beckett of Parkersburg, WV, Allen (Debi) Smith of Arnoldsburg, WV and Keith Smith of Grantsville, WV; 17 grandchildren, several great-grandchildren and 1 great-great-grandchild.

Also surviving are 4 sisters, Emma Jene Garich, Martha Snyder, and Maxine Powell all of Ohio and Madylene Hamrick of Parkersburg, WV; and 1 brother, Don Smith of TN.

In addition to his parents he was preceded in death by 2 brothers, Lester and Pete Smith.

Funeral services will be held 2 p.m. Tuesday, July 29, 2008 at Stump Funeral Home, Arnoldsburg. Rev. Greg Swisher will officiate. Interment will be in Sand Ridge Cemetery.

Visitation will be held at the funeral home Monday evening from 6-8 p.m.

The family requests in lieu of flowers, donations be made to the Calhoun County Park Barn Fund, P.O. Box 276, Grantsville, WV 26147.