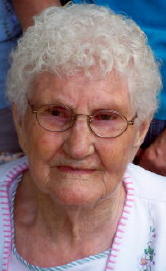 Lucy Marks, 93, of Orma, West Virginia, passed away July 9, 2008 at the home of her son in New London, North Carolina.

She was born in Braxton County, a daughter of the late Daniel and Venie Hardway Holcomb. She was a member of the Fairview Memorial Church at Lower Nicut.

Surviving are four sons, Rev. Carl Marks of Letherbark WV, Ronzel Marks of Orma, Lester Marks of New London NC, and Ray Marks of Smithville Ohio; 4 daughters, Kathleen Sohar of Creston Ohio, Virginia Brady of Greenville SC, Wandalea McCumbers of Orma, and Vickie Chastain of Shoals IN; 1 brother, Samuel Holcomb of Baltimore MD; 47 grandchildren, 65 great grandchildren, and 12 great-great grandchildren.

In addition to her parents she was preceded in death by her husband Curtis Marks; 3 sons, Darrell, Delmer and and Basil; and 1 daughter, Rosalea.

Funeral services will be held 1 p.m. Sunday, July 13 at Stump Funeral Home, Arnoldsburg. Rev. Dewey Tanner will officiate. Interment will be in the Elmira Baptist Church Cemetery at Elmira.

Friends may call from 6 to 9 p.m. Saturday at the funeral home.