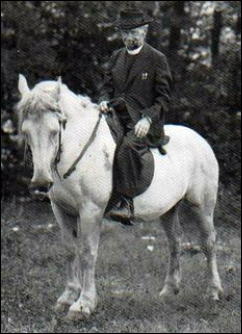 Father Thomas Quirk
The membership of the Catholic Church in Calhoun County has always been small, the county once having a single church
Most residents believe the presence of the church happened in recent years with the establishment of the Prince of Peace missionary church at Pleasant Hill, which has now closed.
A few of the earlier settlers of Calhoun County, new immigrants to America, were of Catholic faith, most settling along the waters of the Little Kanawha and in areas adjacent to the Staunton Turnpike
West Virginia's "Padre of the Hills" - Father Thomas Quirk, was traveling in the region to assist parishioners many years ago.
Mountain Monsignor Time Magazine Monday, June 03, 1935
Over West Virginia back country roads, made muddy by weeks of rain, ploughed a train of automobiles one day last week bearing 49 Catholic priests and Bishop John Joseph Swint of Wheeling.
The party drew up before the small churchyard at Sand Fork. Forming in procession, the men of God marched into the church.
There Bishop Swint solemnly handed purple robes, a purple biretta and a white lace cotta (surplice) to a wrinkled-faced, white-haired old priest named Thomas Aquinas Quirk whom Pope Pius XI had elected to invest with the title Monsignor.
This honorary officership in the army of the Church Militant was 65 years in coming to Father Quirk.
Born in Ireland 91 years ago, he fought in the U. S. Civil War, became a priest in 1870, is supposed to have twice renounced his rights to an earldom.
Alert old Father Quirk has ministered for half a century to three mountain parishes miles apart. Devoted to his collie "Shep," his blackened pipe, his comfortable Congress gaiters and his crushed black hat, he refused until last year to accept an automobile from his flock, preferring to ride from parish to parish on a sturdy grey horse.
Once, said he, his eye for horseflesh caused him to stop to admire a number of mounts tethered in Huntington. One of the horse-owners asked the way to a bank. That man, said Father Quirk, turned out to be Jesse James. He robbed the bank.
FATHER QUIRK ENCOUNTERS THE JAMES GANG
Thomas Quirk's ordination portrait
Photo courtesy of orlandostonesoup.blogspot
by Jim Mullooly
When Fr. Quirk was in his early 30's, sometime during the first week of September, 1875, there was a Methodist Church conference in Huntington and many strangers were about.
Father Quirk, one day at school recess, caught sight of some fine looking horses that several well dressed men had hitched near the church and school. He hurried over, got down in the street to examine the steeds, expressing his admiration for a particular sorrel, a blooded, spirited animal, only heeding his owner, and wisely declined the owner's suggestion to trot him down the street.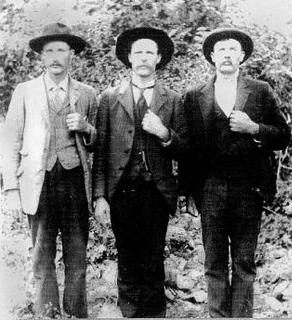 Some of the James Gang who graced the hills of West Virginia
Photo courtesy of orlandostonesoup.blogspot
In the course of the conversation, the owner of this admirable horse asked him how much he would give for it, if for sale. "$800" was Father Quirk's immediate reply, "but I'd have to rob a bank for that kind of money."
Previously he had given these men directions to the Huntington National Bank, not but a block away.
An hour later school was disrupted by shots fired and shouts. He sent to ask what "all the hubbub was about," as he put it. Later he discovered that the "gentlemen" were none other than Jesse James and his brother Frank, who had just robbed the bank described.
He always enjoyed recounting the story on himself, but added, "the James boys were good boys, but just started wrong." See Monisgnor Thomas Acquinas Quirk Obituary www.wvculture.org
See also Father Quirk Comes To Calhoun 1873