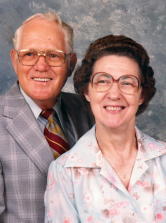 Maysel Josephine Parsons, 90, of Newton, West Virginia, departed this life, Wednesday, June 4, 2008, at her home.

She was born Wednesday, March 20, 1918, at Amma, a daughter of the late Pete and Ella Ledsome McCune. In addition to her parents, she was preceded in death by her husband, Squire E. Parsons, Sr.; two brothers, Oris and John McCune; five sisters, Mable Harrah, Ruey Keaton, Maxine Taylor, Edith Runnion and Emogene Jones.

Mrs. Parsons was a homemaker, wife, mother, grandmother and great grandmother. She was a lady who truly enjoyed spending time with her family and preparing meals for pastors, evangelists, missionaries, singers and friends who visited her home. She was a member of the Newton Baptist Church, where she served as a Sunday school teacher, member of the choir and the Women's Mission Circle.

Survivors include her children, J. Carolyn and Ronald Fisher of Newton, Virgil E. and June Parsons of Elkview, Squire E. and Linda Parsons, Jr. of Leicester, NC, Thomas W. and Cynthia Parsons of Alum Creek; grandchildren, Rhonda Young, Renita Cook, Amy Parsons, Seth Parsons, Leigh Sexton, Sarah Walker, Samuel Parsons and Hannah Parsons; 13 great grandchildren; two brothers, Bobby McCune of Massillon, OH and Jackie McCune of Pigeon.

The funeral service will be held Saturday, June 7 at 11:00 a.m. in the Newton Baptist Church, Newton, with the Rev. Darius Walker, Assoc. Pastor Seth Parsons and the Rev. Ronald W. Fisher officiating. Burial will be in the Laurel Point Cemetery, Newton.

Friends may call at the church from 6-9 p.m. Friday and one hour prior to the service on Saturday.

The family would like to extend special thanks to Cathy Wyatt for the wonderful care she gave to Mrs. Parsons.

Memorial donations are preferred to the Newton Baptist Church Building Fund, 133 Hollywood Road, Newton, WV 25266 or the Cross Country Christian Academy, P.O. Box 837, Newton, WV 25266.

John H. Taylor Funeral Home, Spencer is in charge of arrangements.