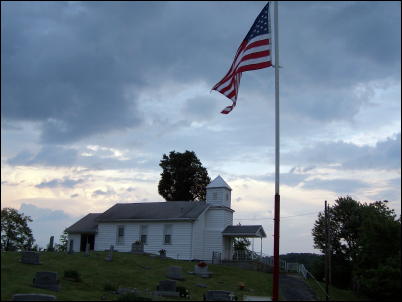 Storm clouds circle the Village of Hur, where
the stalwart and respectful rest quietly ...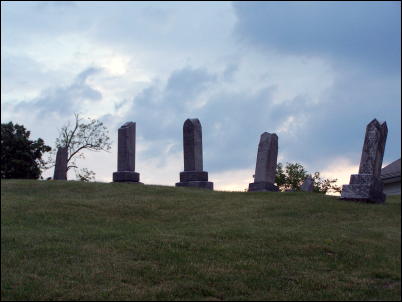 ... a reminder of a time and place where
people and community were once connected
By Bob Weaver
Aging brings an awareness that most of the people who made their mark on one's life have died, a loss of being left behind to endure without their presence, to face the joys and sorrows of daily experience.
Here in the Village of Hur, all of my previous generation are gone, family members, neighbors and those fabulous community characters.
Now deceased in the past couple of years, local folk of my generation have passed, contributing to the population decline of Calhoun.
Visiting the Hur Cemetery, there was is a stark realization that most of our stalwart reside there, including those characters that have become legendary in our storytelling.
Our lives seem less meaningful, dedicated, or work-hardy.
It may simply be that we are less connected to one another, or for that matter, connected to the earth upon which we stand.
It is the decline of community - centralizing, merging, consolidating and globalizing. We're told that market forces are driving such changes, and the change will be good for us.
It may be that 21st century technology - mass media, satellite TV, cell phones, Facebook, social media, texting, tweeting, and video games connects us with visual and auditory images, information and commerce.
Most people in America say they get their "news" on Facebook, where users frequently rant, rave and triangulate.
That connectnedness appears somewhat tangible, but missing could be a story flowing from a neighbors mouth, the touch of a friends hand, going to the community church, being a community volunteer or the connectedness to the earth and creation, little time for that.
A result is the decline of civility and respect, a commodity that seems more rare as time moves on.
Here in Calhoun County we still have some "good souls."
On Memorial Day we see a few souls returning to the country cemeteries, still having civility and respect, even for the dead.