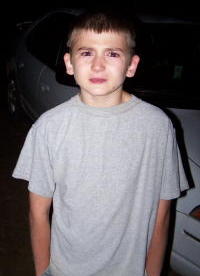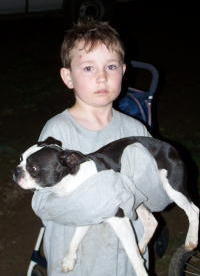 Boys found safe after wandering into Bear Fork Wilderness, Jake Holcomb, 10 (left) son of Fonzie and Melissa Holcomb and Kaleb Hall, 9 (right) son of Tina Green, shown with his dog who stuck with the boys
2008
Two young boys wandered away from their house on US 33-119 between Sand Ridge and Stumptown Sunday evening, getting lost in the Bear Fork Wilderness.
Ten-year-old Jake Holcomb and nine-year-old Kaleb Hall had last been seen playing in the edge of the woods Sunday evening, with their parents reporting them missing at 8:22 p.m.
Calhoun Sheriff Carl Ballengee and his dog Khan, Deputy Justin Smith, Sgt. Jeff Skidmore, and members of the Arnoldsburg VFD answered the 911 call.
A number of community members also responded to help with the search.
As searchers started to enter the woods, family members returned the boys by vehicle after finding them along a dirt road in Bear Fork.
They had wandered seven to ten miles. Two of three dogs accompanied the youth returned to the house.
Neither of the boys suffered any injuries, but reported they were tired, cold and hungry.