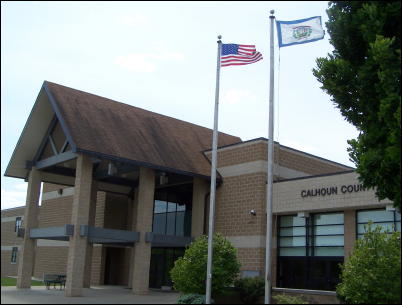 The "new" Calhoun Middle-High School
thirteen years after official opening
By Bob Weaver
Twenty-three years after the official opening of Calhoun Middle-High School at Mt. Zion, it is still referred to as "the new school."
The school has now graduated students for 97 years.
Thousands of them have risen to professions and jobs, making the world a better place.
That may be because of few new things in the county, or the fact that the old school, the county's only high school at Grantsville, was an institution after 77 years.
The cornerstone ceremony was held on June 25, 1998 with Gov. Cecil Underwood and his wife, Hovah Hall, a Calhoun native coming to the official opening on August 25.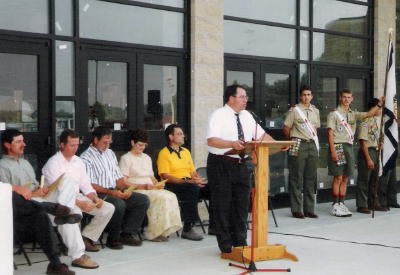 Superintendent Ron Blankenship speaks
during cornerstone dedication in 1998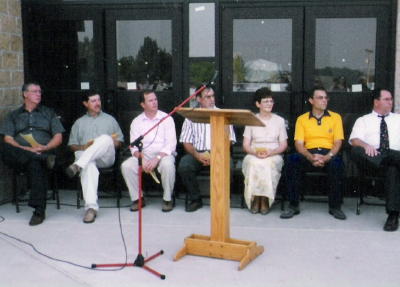 Attending ceremony (L to R) board members, Lee Evans, Ralph Cunningham, Rick Fitzwater, Jerry Malona, Carlene Frederick, Lions Club president and school teacher Bob Bonar and superintendent Blankenship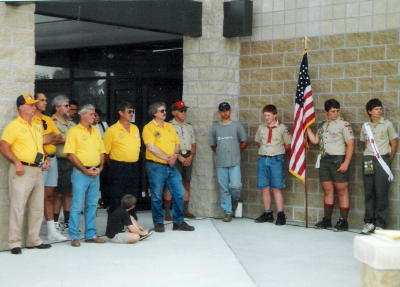 Grantsville Lions Club members and Boy Scouts
The new school was built after a bitter struggle over school consolidation and funding, with the closure of Minnora and Brooksville schools.
Construction began on the school in 1996, after the county was awarded $13,865,128 from the School Building Authority and $2,138,810 was approved by Calhoun voters.
The school serves all county students, grades 5 through 12.
High school students occupy classrooms located in the front of the building, with middle school students located in the back of the building.
A major volunteer effort was launched to complete the school's athletic complex.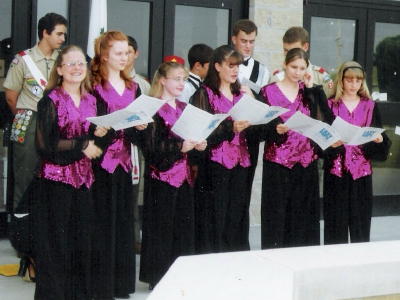 School musical group "Vandalias" perform for ceremony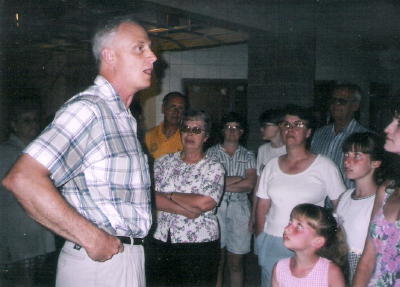 Administrator Donnie Pitts gives tours of new facility