By Bob Weaver (Nov. 2001)

PART THREE: A CALHOUN HERO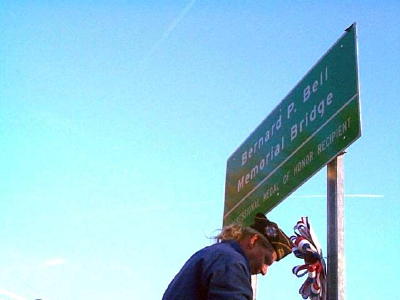 VFW member Art Bell reveals new Bell Bridge sign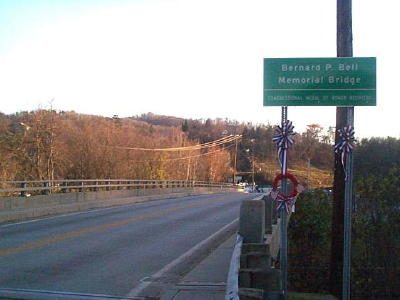 The "new" Bernard P. Bell Memorial Bridge (looking north on Route 16)
Veteran's organizations from Grantsville and Spencer participated in the dedication of the Grantsville bridge Saturday, naming it the "Bernard P. Bell Memorial Bridge," after the Congressional Medal of Honor recipient who was born in Calhoun.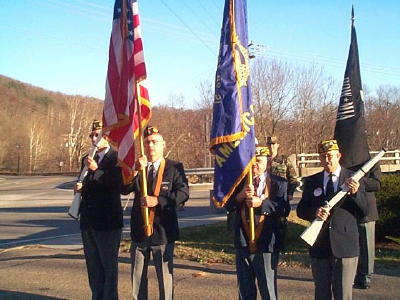 Color guard assembles on north end of bridge at Route 16/5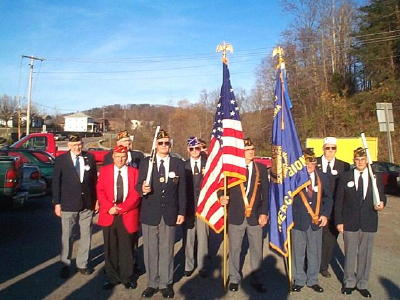 American Legion members from Spencer join Grantsville's VFW 5959
Del. Bill Stemple, a Vietnam Vet, introduced the participants in a ceremony held at the north end of the structure.
Paul Whytsell, Commander of VFW Post 5959 of Grantsville, was an organizer of the ceremony. He expressed his appreciation to the Spencer vets for participating.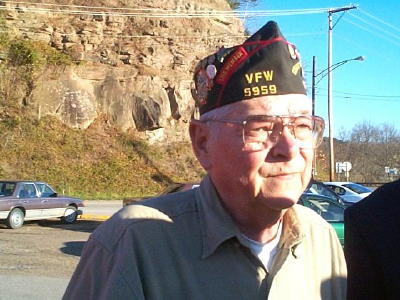 Post Commander Paul Whytsell, local VFW, helped organize event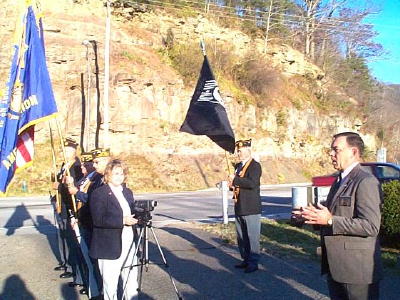 Del. Bill Stemple welcomes assembly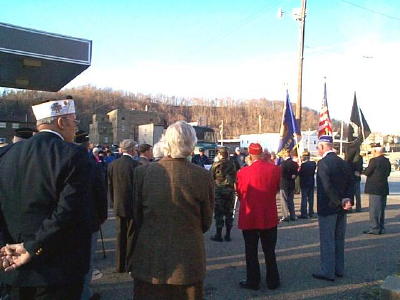 A warm and sunny November day, Sgt. Lynn Gilbert reads Bell's citation
The Grantsville Senior Center (CCCOA) had their Second Annual Veteran's Day Celebration following the bridge dedication. "I feel honored to stand before you (vets) today," said Mike Ritchie, Director of the center, and "honor those who have served."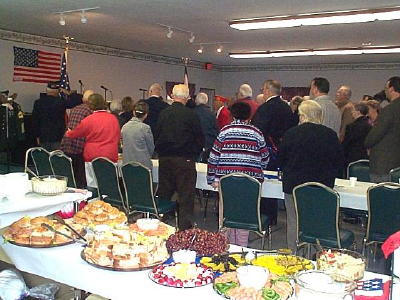 Large crowd attends Senior Center vet's recognition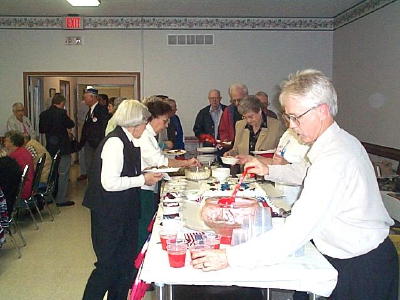 Mike Ritchie serves large crowd at Senior Center
He announced the formation of the "Last Man's Club" for WWII vets. Local veteran Von Yoak was the keynote speaker, who gave a reminder about recognizing the flag and pledging allegiance to "our great Democracy."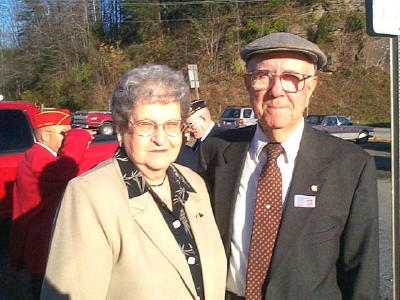 Mr. and Mrs. Von Yoak. Yoak gave talk at Senior Center
Tables throughout the center had displays of early military uniforms and artifacts from the nation's major conflicts. A large crowd filled the center's dining hall to share a buffet and participate in a program of honors. Honorary certificates were given to veterans attending.
WWII Vet Denver Gandee of Spencer, spoke at the bridge dedication. Bell, whose nickname was "Red." Gandee said he visited with Bell in Pt. Pleasant on several occasions. "He often gave patriotic talks to groups, although he rarely spoke of his own heroics," said Gandee.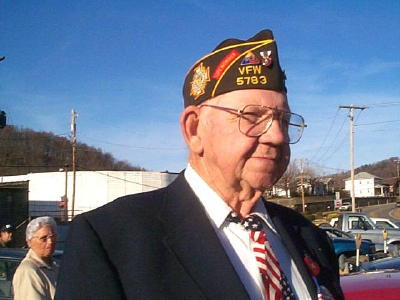 Spencer resident Denver Gandee knew Bell as "Red"
"I ask him one time how he got out of Calhoun County, and he said he walked out like everyone else," joking about the lack of transportation in the early 1900's. Gandee is well-known for his participation in the battle at the bridge of Remagen, made famous by Ken Heckler's book and later a motion picture.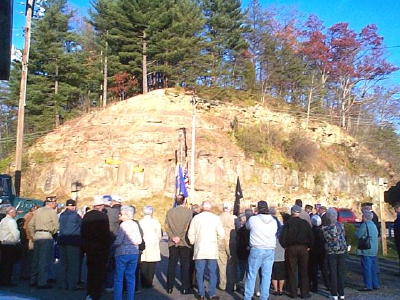 A special event for Veteran's Day 2001 Part Three of Four