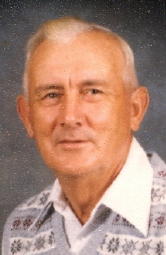 Ray Goodwin, 80, of Amma, West Virginia, died Friday, April 18, 2008, at home, after an extended illness.

He was born November 24, 1927, at Amma, a son of the late Otmer and Icie Ellen Carper Goodwin. In addition to his parents, he was preceded in death by seven brothers, Otto, Frank, Ralph, Bill, Danny Joe, Earl and Waitman Goodwin; two sisters, Addie Butcher and Artie Allshouse; one half brother, Jim Goodwin; one half sister, Roxie Lesher.

Mr. Goodwin was a retired pipeliner. He was a member and deacon of the House of Prayer, Left Hand. Also, he was an Army veteran of World War II and an avid deer hunter.

Survivors include his wife of 60 years, Eula Nichols Goodwin of Amma; sons and daughters-in-law, Steve and Pat Goodwin of Uniontown, OH, Roger Goodwin of Amma, Russell and Melissa Goodwin also of Amma; two brothers, Clyde Goodwin of Left Hand and Ron Goodwin of Looneyville; three sisters, Marie Dennis of Amma, Faye O'Dell of Walton and Opal O'Dell of Tariff; seven grandchildren, Amie Goodwin of Hartville, OH, James Goodwin of Akron, OH, Jason Goodwin of Uniontown, OH, Michael Goodwin, Sonya Shaffer, and Shawna Martin all of Spencer, Andrew Goodwin of Amma; four great granddaughters.

A funeral service will be conducted Wednesday, April 23 at 1:00 p.m. in the John H. Taylor Funeral Home, Spencer, with the Rev. Jack McCune officiating. Burial will be in the Snodgrass Cemetery, Left Hand.

Friends may call at the funeral home from 6-8 p.m. Tuesday.