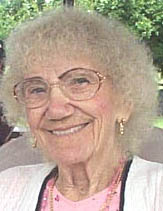 Rhoda Blanche Jones, 86, of Big Springs, Calhoun County, died October 31 at her home on Leading Creek.

Born June 17, 1915 on Yellow Creek she was a daughter of the late Arthur Bailey (Doc) Richards and Indiana Taylor Richards. She was a housewife and enjoyed attending community sings and quilting.

Surviving Mrs. Jones are seven children, Shirley Taylor and her husband, Douglas, Betty Jenkins and her husband, Eddie all of Big Bend, WV, Wanda Dye and her husband, Keith of Midland, NC, Darl Jones and his wife, Carol of Statesville, NC, Russell Jones and his wife Vickie of Big Springs, Donald Welch and his wife, Lola of Macon GA, Carol Ritchie and her husband Tommy of Hawkinsville, GA and a daughter in law, Fumiko Welch of Mt. Zion, WV; 19 grandchildren, 1 step grandchild, 20 great grandchildren and 2 step great grandchildren.

She was preceded in death by her first husband, Robert Welch and her second husband, Harley Jones, April 28, 2001, a son, William F. "Bill" Welch, 2 granddaughters including Debra Taylor Fowler, sisters, Minnie Eagle, Eliza Jane Wilson, Dessie Goodnight, Alma, Thelma and Opal all died in infancy, brothers, Willard and Lester Richards, Oakie, Carl and Kenneth all died in infancy. She was the last surviving member of her immediate family.

Funeral services will be held Saturday at 2 p.m. at Stump Funeral Home, Grantsville, WV. Reverend Larry Jones will officiate. Interment will be in the Goodnight Cemetery at Big Bend. Friends may call at the funeral home from 12 noon Saturday until the time of the service.