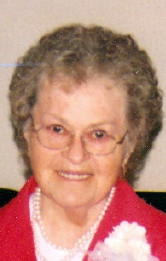 Vada A. White, 73, of Ripley, West Virginia, formerly of Tariff, died Wednesday, March 12, 2008, in St. Francis Hospital, Charleston, after an extended illness.

She was born Friday, September 14, 1934, in Roane County, a daughter of the late Harley Keaton and the late Zona Chapman Keaton Hickman. In addition to her parents, she was preceded in death by two children, Timothy and Yvonne White; two brothers, Virgil and Bobby Keaton.

Vada was a wife, mother, grandmother and great grandmother. She was an avid gardener and quilter. Also, she was a member of the Newton Baptist Church, Newton.

Survivors include her husband, J.W. "Bus" White of Ripley; three daughters, seven grandchildren, four great grandchildren and three step grandchildren; two brothers and six sisters.

A funeral service will be conducted Sunday, March 16 at 2:00 p.m. in the John H. Taylor Funeral Home, Spencer, with the Rev. Leon B. Strickland officiating. Burial will be in the Keaton Cemetery, Newton.

Friends may call Saturday from 6-8 p.m. at the funeral home.