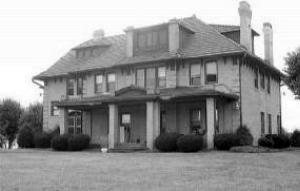 Parkersburg house of former Calhoun judge will be razed
By Bob Weaver 2012
The historic Reese Blizzard house in South Parkersburg will soon be razed to be replaced by a supermarket.
The house, built before 1920, stood on 400 acres which now includes much of the commercial and residential development in South Parkersburg.
His great-grandson, Reese Blizzard, now in his 90s and residing in a Marietta assisted-living home, said the third floor had a large ballroom for social events, and behind the house was a large horse track.
The Blizzard property was purchased by Roane County native Ralph Looney a number of years ago, on which he established Ralph's Market.
Blizzard began a law practice in Grantsville and in 1896 was elected judge in the Sixth Judicial Circuit.
His first wife, Lillian Stump of Grantsville, died in 1896, likely causing his move to Parkersburg in 1901. President William McKinley appointed him United State district attorney for West Virginia.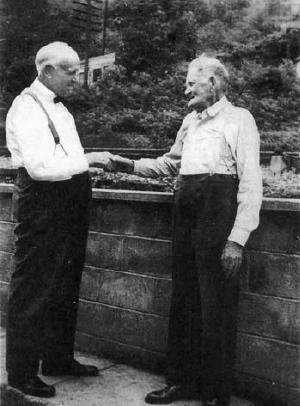 Judge Blizzard (left) with his brother Timothy Blizzard
He went on to be a judge, the editor of the Parkersburg paper, an influential lawyer, businessman and railroad attorney.
Attending Glenville Normal School, he was proud of his experiences that prepared him for bigger things, teaching school, working on a farm, clerking in a store, and carrying mail.
Blizzard was known for his 1897 sentencing in Jackson County of John F. Morgan for a triple murder. Morgan's execution was the last public hanging in West Virginia, with 5,000 people attending the execution.
He made national headlines in 1902, after union activist Mother Jones was arrested for ignoring an injunction banning meetings by striking miners.
"There sits the most dangerous woman in America", announced Blizzard, "She crooks her finger and 20,000 men lay down their tools."