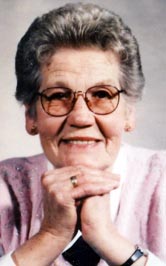 Ruby Graham Carper, 88, of Left Hand, West Virginia, died Thursday, February 28, 2008, in CAMC - General Hospital, Charleston.

She was born Sunday, May 4, 1919, in Bloomington, Roane County, a daughter of the late Gay and Orpha Moore Graham. In addition to her parents, she was preceded in death by her husband, Guy P. Carper; son-in-law, Ron Sutphin; seven brothers and one sister.

Ruby was a homemaker, who took great pride in her home, children and great grandchildren. She was a member of the Linden Chapter No. 152, Order of the Eastern Star, Linden.

Survivors include sons and daughters-in-law, Ken and Liz Carper of Tallmadge, OH, Cookie and Gail Carper of Mogadore, OH and Roger and Virginia Carper of Hartville, OH; daughters and sons-in-law, Frances Sutphin of Akron, OH, Margaret and Larry Hays of Ravenna, OH, Doris and Pete Drake of Left Hand, and Judy and Jamie Truman also of Left Hand and Sallie Engle of Elkview; sister, Mary Via of Delaware; 19 grandchildren and 24 great grandchildren.

A funeral service will be conducted Saturday, March 1 at 2:00 p.m. in the John H. Taylor Funeral Home, Spencer, with the Rev. Michael F. "Mike" King officiating. Burial will be in the Clover Cemetery, Clover.

Friends may call Friday from 6-8 p.m. at the funeral home, where an Eastern Star memorial service will be held at 7 p.m.