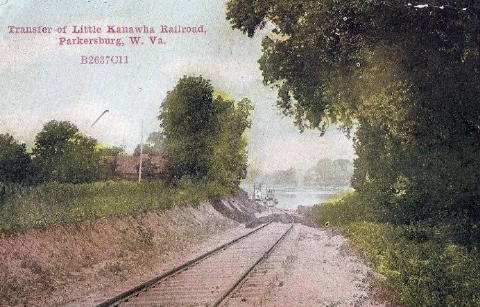 Photo was taken on the south side of the Little Kanawha River,
just above where Neale Creek empties into the LK, the postcard
mailed May 24, 1910 from Parkersburg, the boat used to take the LK
train across the river (Photo compliments of Dan Kemper)
By Bob Weaver
The Little Kanawha Railroad turned out to be a $5 million dollar disaster, a railroad that was to have been built through Calhoun.
However, the railroad was built into Wirt County and grading and some bridge building was completed in Calhoun in the early 1900s, with plans to connect to rail lines in Randolph County.
The railroad had its principal office in Pittsburgh, records indicate it was controlled by the Little Kanawha Syndicate, which was composed of the Baltimore and Ohio, the Pennsylvania Company, and The Pittsburgh and Lake Erie Railroad Company.
The Little Kanawha Railroad project was between March 1897 to April 11, 1908.
The line was completed from South Parkersburg to Owensport in Wirt County (29.377 miles), during 1897 and 1898.
The company also began the construction of an extension from Sandy Bend to Burnsville about 70 miles, but the work was discontinued in 1903.
By 1912 the federal government was investigating what went wrong.
PUFF PUFF, CHUG CHUG, CHOO CHOO - The Little Kanawha railroad Never Made It (Part One)
PUFF PUFF, CHUG CHUG, CHOO CHOO - Millions Lost In Railroad Collapse (Part Two)