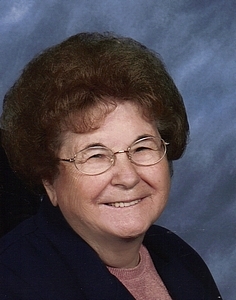 Pauline Kerby Duskey reveled in writing and
talking about her early days in the Calhoun hills
By Bob Weaver 2007
While the elders of the Mt. Olive Methodist Church at Hur didn't cotton much to foolishness, they somehow made way for the likes of the younger folks in the community, including Pauline Kerby, one of Holly Kerby's seven kids.
Many older students of Calhoun High will remember Holly as the school janitor.
In those days ago, with few distractions in the 40s and 50s to interrupt dutiful worship, life was centered around the church.
The church was used for socials, sings, movies and plays.
The old 16mm projector showed cartoons, westerns, and travel films.
Pauline's talent was to create plays and skits for holidays, the apex being Christmas. The scripts, to say the least, had little religious content, but were heavy on humor.
She would handwrite some original scripts and decide who would play each character, generally take-offs of popular radio shows or movies.
Can you imagine attending the Christmas program and watching politically incorrect versions of Amos and Andy or an old-time radio comedy called "The Beulah Show," which once starred Hattie McDaniel of "Gone with the Wind" fame?
Some of the plays she captured from the vaudeville circuit, including a well-remembered skit called "The Census Taker."
The illumination of the production was with an natural gas light, electricity first coming to the village about 1950.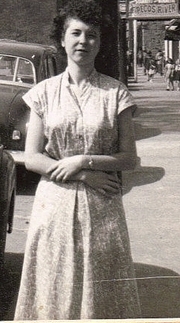 Pauline (left) on Grantsville's Main Street, likely 1950s, with Kanawha Theater movie on marquee "Pecos River"
Pauline generally directed the annual version of Dicken's "Christmas Carol," which was simply called "Scrooge" for the church performance. Holly Kerby, Pauline's dad, usually played the greedy codger, and a few times I got to play Tiny Tim.
The Christmas program was a really big deal, with every kid within miles having a part, and if you didn't want a part, you could be the curtain pullers.
People from all over came to pack the church, from the Kerby Ridge, and down on Rowels Run, out from Husk Ridge and Slider Fork.
Then the plays went on the road to other churches on the charge.
I've often wondered what the old folks really thought after the audience laughed and laughed for nearly an hour, but redemption came with some serious moments, the manger scene and the singing of "Silent Night."
A visit by Santa, usually performed by Eugene Reynolds, ended the event with a basket of treats.
It was near the end of time before Christmas crossed into a credit card nightmare, there was still joy in hardrock candy, mistletoe and a new fallen snow.
Nearly 70 years have slipped by, Pauline marrying Rev. Bob Duskey early on and becoming much a part of his ministry.
Parting time came last week at age 76. See Pauline Kerby Duskey
Christmas Eve I'll drive up to the darkened church to remember those days, remmbering It's time to open those big gates for some laughter and fun, here comes Pauline ...