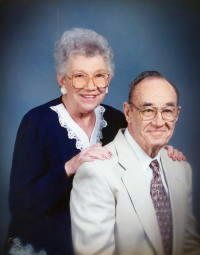 Loranza G. "Jack" Pitts, Jr., 82, of Grantsville, West Virginia departed this life Saturday, February 9, 2008 at Charleston Area Medical Center.

Jack was born July 14, 1925 in West Union, the son of the late Loranza G. Pitts, Sr. and Orpha Lea Cain Pitts.

He was a Navy veteran of WWII and the Korean Conflict and retired from Hope Gas Company after 36 years.

He loved woodworking and was known as Mr. Fix-It, and attended the Grantsville First Baptist Church.

Jack married Glena L. Hardman Pitts on Janusry 11, 1947. Mrs. Pitts preceded her husband in death December 30, 2005.

He is survived by his daughter, Jackie (Ron) Blankenship; sons, Rick M. (Sharon) Pitts, and B.K. (Melissa) Pitts, all of Grantsville; seven grandchildren, Paige Toney, Cam Blankenship, Ashley Pitts, Dylan Baker, Brandon Baker, Tyler Walling, and Brianna Pitts; three great grandchildren, Bradyn and Alexis Toney, and Sophia Beam; two sisters, Margarete Dykman of Virginia and Orpha L. Blackmur of North Carolina.

In addition to his parents and wife, he was preceded in death by three siblings, Gladys, Don, and Barry Pitts.

Funeral services will be held Tuesday, February 12 at Ellyson Mortuary, Inc. in Glenville with Pastor Bill Law officiating. Burial will follow in the Collins Community Cemetery at Stumptown, WV.

Friends may call from 6 to 9 p.m. Monday at the mortuary.