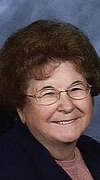 Pauline Ruth Kerby Duskey, 76, of Canvas passed away on Tuesday, February 5, 2008, after a short illness.

Born March 31, 1931, at Annamoriah, Calhoun County, she was a daughter of the late Holly and Elizabeth Gibson Kerby of Hur. She was also preceded in death by her three sisters, Linda, Sue, and Marie.

She was a member of Jordan Chapel United Methodist Church, Canvas, and a faithful supporter in her husband's ministry for over 50 years. She enjoyed life, being with her family, writing poetry, planting flowers and tending to the garden behind her home.

She is survived by her husband, Harold Duskey; daughter, Sandy and husband, Damon Hanshaw; two grandchildren, Zachary and Whitney Hanshaw; brothers, Robert and wife, Lorraine, of Columbus, Ohio, William and wife, Phyllis, of Mount Zion, and Foster and wife, Janet, of Spencer; and one brother-in-law, Gene Kerby of Parkersburg.

Funeral services will be held at 11 a.m. Friday, February 8, at Jordan Chapel United Methodist Church, Canvas, with the Rev. Clifford West officiating. Interment will follow in Walker Memorial Park at Summersville.

Friends may call from 6 to 8 p.m. Thursday at White Funeral Home, Summersville.

No Bad Times in Heaven

By Pauline Duskey 9/6/2005

There will be no bad times in heaven.
No one will be begging for bread.
Fruits will be abundant in heaven
Where all of God's children are fed.

We know that sin will not enter;
There will be no trouble or strife.
We'll dwell in peace and contentment
And drink from God's fountain of life.

In heaven, where we are going;
The wrongs down here were made right.
We will meet the saints from all the ages,
Then we will gaze at the heavenly lights.

We will stand on the bank of the river
Beneath the shade of a beautiful tree.
There we will meet with our Saviour
And all of our love ones we'll see.