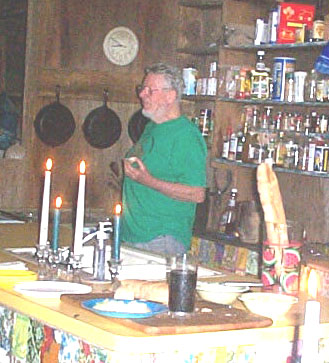 Theodore "Ted" Hotchkiss, 75, of Arnoldsburg, Crook's Run Road of the Beech Community, died suddenly on October 24, 2001 at his residence. A native of Granby, Connecticut, he was a builder. He attended Lawrence Academy in New Jersey and Trinity College in Hartford, Connecticut. He was a Buddhist.

He and his wife, Sarah Hendrickson Hotchkiss, who survives, moved to Calhoun County in 1981.

He is survived by his first wife, Jean Archibald of Vermont. Also five children, Jeffrey Hotchkiss of Yarmouth, Maine; Patricia Hotchkiss-Bakir of Amman, Jordan; Katherine Mao-Hotchkiss of Hong Kong; Sarah Hotchkiss of Vermont and Melissa Hotchkiss of New York City.

Three step-children survive, Christopher Park of Austin, Texas; Clinton Park of Leander, Texas and Dana Sorenson of Texas.

Graveside services will be conducted Wednesday, October 24, 2001 with Buddhist Meditation Leader Ken Lewis of Harmony, West Virginia. Burial will be near the family residence.