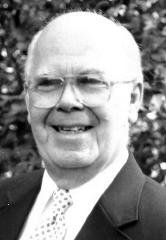 Quellen McGuire Keith, 87, of Columbia, South Carolina, formerly of Spencer, West Virginia, passed away Tuesday, January 15, 2008 in the C.M. Tucker Center, Columbia, following an extended illness.

Mr. Keith lived most of his life in Spencer, relocating to Columbia, in 2004.

He was born June 15, 1920, at Spencer, a son of the late Russell T. and Edna McGuire Keith.

Mr. Keith was employed by the U.S. Department of Agriculture, Farmers Home Administration for over 40 years. He was elected to two terms on the Roane County Commission, serving from 1988-2000.

He was a 1938 graduate of Spencer High School, a graduate of Hampden-Sydney College and earned an M.S. in Agriculture from West Virginia University.

He was a World War II veteran and served in England in the Army Air Corps. During this time, he played trombone for a military dance band and continued playing for many years with the Top Hatters dance band in Spencer.

Mr. Keith was a member of the Spencer Rotary Club, Moriah Lodge No. 38, A.F. & A.M., the American Legion Post 21, the Roane County Chamber of Commerce and was secretary for many years of W.Va. Hereford Breeders Association. He was also a member and deacon of the First Baptist Church of Spencer.

Quellen was an Eagle Scout and one of the few scouts to meet the founder of the Boy Scouts of America, Lord Robert Baden-Powell, while attending a World Jamboree in England.

Survivors include his wife of 62 years, Johnnie Mae Keith of Columbia; sons and daughters-in-law, Jon Girard and Crissa Keith, Thomas Christopher and Doris Keith all of Columbia; four grandchildren, Sarah Barrett Keith of Washington, DC, Anna Christine Keith of Charleston, SC, Adam Christopher Keith and Matthew Thomas Keith both of Columbia; brothers, Dr. John E. Keith of Spartanburg, SC and Russell T. Keith, Jr. of Charleston, WV.

A funeral service will be conducted Saturday, January 19 at 11:00 a.m. in the First Baptist Church of Spencer, with the Rev. Michael F. "Mike" King officiating. Burial with military graveside rites, accorded by several Roane County veteran groups, will be in the Eventide Cemetery, Spencer.

Friends may call at the John H. Taylor Funeral Home, Spencer, Friday from 6-8 p.m. and at the church one hour prior to the service.

Memorial contributions are preferred to the "Elevator Fund", First Baptist Church of Spencer, 338 Main St., Spencer, WV 25276.