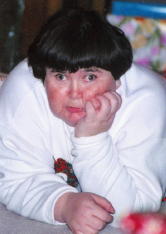 Kimberly Grace Miller, 45, of Billings Road, Reedy, one of God's special angels, departed this life surrounded by her family and friends on January 5, 2008, at CAMC General Hospital, Charleston after a heart attack.

Kimberly was born November 19, 1962, in Parkersburg, a daughter of Anna Pauline Currey Miller of Reedy and the late Hershel L. Miller. In addition to her father, she was preceded in death by her maternal grandparents, Clyde D. and Anna Cheuvront Currey; paternal grandparents, Herman and Nellie Kelley Miller; nephew, Mitchell Alan Miller; aunts, Wilma McClung and Marjorie Snodgrass; uncles, Hyson Currey and Jack Wine.

Kimberly was an active member of the Reedy Baptist Church and attended Westbrook Health Services' Day Program, Spencer. Kimberly lived life to the fullest and loved people, playing sports with her family and friends, cheerleading, singing, traveling, and camping.

In addition to her mother, Kimberly is survived by her brother and sister-in-law, Keith Alan and Pamela Miller of Reedy; sisters and brothers-in-law, Terri and John Ellet of Austin, TX and Sherri and Robert Bricker of Waynesville, OH; aunts, Iris Wine of Spencer and Wanda Currey of Parkersburg; uncles, Steve Miller and wife, Janet of Lawrenceville, GA, Coy Snodgrass of Cottageville and Emerson McClung of Reedy; nieces and nephews, Alyssa J. Miller of Frederick, MD, Joe H. and Johnny L. Ellet of Austin, TX, Kelley J. and Amy N. Bricker of Waynesville, OH; and a host of family and friends.

Those who helped give Kimberly her independence were her dedicated caregivers, Rose Epling, Belva "Thelma Bell" Kidd, Vanessa Lawson, Angie Profitt, Sylvia Gibson and April Rogers.

The funeral service will be conducted Wednesday, January 9 at 1:00 p.m. in the John H. Taylor Funeral Home, Spencer, with Pastor Mark Price officiating. Burial will be in the Eventide Cemetery, Spencer. Friends may call at the funeral home Tuesday, January 8 from 2-4 p.m. and 6-8 p.m.

Memorial gifts may be made to the Roane County Library, 110 Parking Plaza, Spencer, WV 25276.