By Bob Weaver (October 2001)

PART ONE: CALHOUN HERO BERNARD BELL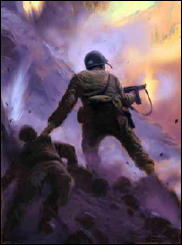 He was a Calhoun boy who went off to the great war against Adolph Hitler. At dawn's early light on December 18, 1944, far from his quiet country life at Henrietta, Bernard Pius Bell met the enemy face to face, with terror, heroism and survival in Mittelwihr, France.
He was awarded the Congressional Medal of Honor for his "bold and aggressive leadership" which enabled his eight-man squad to drive back about 150 of the enemy, capturing 42 and killing 47. Bell personally killed more than 20 and captured 33 enemy soldiers. He became one of America's great World War II heroes.
Bell will finally be honored on November 9 when the Grantsville bridge across the Little Kanawha River will be named the "Bernard P. Bell Memorial Bridge." The bridge is at the intersection of Routes 16 and 5 in Grantsville.
The event will coincide with the second annual Veteran's Day celebration planned by the Calhoun County Committee on Aging, according to Director Mike Ritchie.
Bell, a Technical Sergeant, was leading his Army squad against a schoolhouse held by the Germans. He dashed into the building and captured two guards, to discover other enemy troops in the basement.
Threatening the enemy with hand grenades, Sgt. Bell forced twenty-six soldiers from the basement, causing them to surrender. He then ordered his squad to occupy the schoolhouse, defending it from powerful enemy action, heavy artillery and mortar fire.
The following day Sgt. Bell took the risk to repair communications lines while under heavy attack, continuing to kill enemy soldiers and taking prisoners. The schoolhouse came under heavy attack from an enemy tank, with Sgt. Bell climbing to the nearly-destroyed second floor directing artillery fire toward it, causing the hostile tank to retreat.
During the battle, Bell took other courageous actions that elevated him to receive the Congressional Medal of Honor.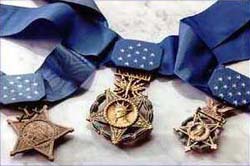 The Medal of Honor is the highest award for valor in action against an enemy force which can be bestowed upon an individual serving in the Armed Services of the United States. Generally presented to its recipient by the President of the United States of America in the name of Congress, it is often called the Congressional Medal of Honor
Bell was the son of the late Mr. and Mrs. Perry Pius and Lora Roberts Bell, who at one time had a store at Henrietta. He has one living sister in Florida, who will be invited to attend the November 9 event.
President Truman Honors Calhoun Man
Bell's Heroism Returns To Calhoun
Grantsville Bridge Named For Calhoun Hero
Plaques Erected In Bell's Honor
Heroes Life Recalled By Sister