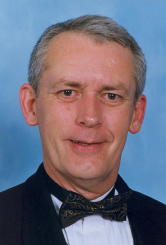 Philip E. Reynolds, 56, of Spencer, West Virginia, died Monday, December 17, 2007, at his home.

He was born March 27, 1951, in Port Arthur, Texas, a son of Barbara "Bobbie" Bennett Reynolds Brown of Harlingen, Texas and the late Vincent Oscar Reynolds.

Philip retired after 30 years of teaching. He had taught at the Spencer Elementary School, former Spencer High School and the Roane County High School. Philip had been chosen Roane County Teacher of the Year. He was a graduate of Glenville State College and a member of Lambda Chi Alpha.

In the community, Philip was a former Boy Scout leader and an active member of the Roane Arts and Humanities Council. Also, he attended the Memorial United Methodist Church, Spencer.

In addition to his mother, survivors include his wife, Carmen Miller Reynolds; daughter, Lisa D. Smith of Williamstown; son, Craig P. Edwards of Tampa, FL; brother, Timothy Vincent Reynolds of Georgetown, TX; stepfather, Edd Brown of Harlingen, TX; three grandchildren.

A funeral service will be conducted Friday, December 21 at 11:00 a.m. in the John H. Taylor Funeral Home, Spencer, with Pastor Joe Heilman officiating. Burial will be in the Eventide Cemetery, Spencer. Friends may call at the funeral home from 6-8 p.m. Thursday.

Donations are preferred to American Cancer Society Memorials, Sandy Boothe, Chairperson, 45 Billings Road, Reedy, WV 25270.