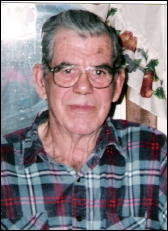 Harry B. McCumbers, 73, went to be with his Lord on Nov. 21, 2007, at St. Joseph's Hospital, Parkersburg.

Harry was the son of the late Belle and Willie McCumbers of Orma, W.Va. He was preceded in death by one brother, Harold McCumbers.

Harry will always be remembered as a quiet, devoted and loving husband, father, neighbor and friend. He brought calming peace, happiness, wisdom and a tender sense of humor to all those whose lives he touched.

He retired from the West Virginia Department of Highways in 1990, with 22 years of service. He had also worked as a coal miner, timber cutter and for State Construction. His second love, only after his family, was farming on his 109-acre plot in PeeWee. He was frequently called upon by friends and neighbors alike to lend a helping hand and was always willing and happy to serve.

Harry is survived by his loving wife of 51 years, Ruby Helen Tucker McCumbers. They were married on Dec. 11, 1955, by the Rev. Billie Schoolcraft. They share 51 wonderful years together.

Harry is also survived by his six children, Dean and Kathy McCumbers of Palestine, Larry and Sandy McCumbers of Elizabeth, Judy (McCumbers) and Tom Paquette of Parkersburg, Jimmy and Linda McCumbers of Parkersburg, Peggy (McCumbers) and Donnie Gant of Leroy and Nancy (McCumbers) and Chip Shaver of Parkersburg; 10 grandchildren, Michael and Melissa McCumbers, Erica and Bryan McCumbers, Katherine Paquette, Jessica James, Brandi McCumbers, Heather Slack, Shauna Carpenter and Nikki Shaver; three great-grandchildren, Jocelyn Blair, Braelyn Slack and Ruby Carpenter; several stepgrandchildren and stepgreat-grandchildren; and one brother, Harrison McCumbers.

Funeral services will be 2 p.m. Saturday at Matheny-Whited Funeral Home in Elizabeth, lead by the Rev. Bob Stanley and Pastor Danny Schreckengost. Graveside services and interment will be at the Pisgah United Methodist Church Cemetery.

Visitation was held from 2-4 and 6-8 p.m. Friday at the funeral home.