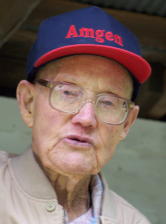 Randall Edwin Whytsell, 91, of Arnoldsburg, West Virginia died Friday, November 17, 2007 at Minnie Hamilton Health System, Grantsville.

He was born at Richardson, Calhoun County, a son of the late Edwin Lowell and Rettie Starcher Whytsell.

Randall was a farmer and worked for the Monongahela Power Company and Pennzoil Oil Company. He played the guitar and sang with his brother Woodrow as the Whytsell Brothers. He attended Leatherbark Community Church and Mt. Zion Methodist Church.

Surviving are daughter, Peggy Lou Stemple and husband Marvin of Arnoldsburg; grandson, John Kenton Stemple of Parkersburg; granddaughter, Deidre Lynn Hobbs and husband Martin of Newbury Park, California; great grandson Jared Wesley Hobbs, and great granddaughter, Valerie Elizabeth Hobbs, both of Newbury Park; one brother Victor Eugene Whytsell of Arnoldsburg; and several nieces and nephews.

In addition to his parents he was preceded in death by his wife of 68 years, Blanche Parrill Whytsell; two sisters, Hazel Mae Kemmner Connolly and Elizabeth Almira McCoy; and three brothers, Charles Davis Whytsell, Woodrow Wilson Whytsell, and Dewey Paul Whytsell.

Funeral services will be held 1 p.m. Tuesday, November 20 at Stump Funeral Home, Arnoldsburg with Rev. Rick Swearingen officiating. Interment will be in the Lynch Cemetery, Arnoldsburg.

Friends may call at the funeral home from 4 to 7 p.m. Monday and one hour prior to the service Tuesday.

Memorial contributions may be made to Calhoun County Committee on Aging, Arnoldsburg Community Park, Leatherbark Community Church, or Mt. Zion Methodist Church.