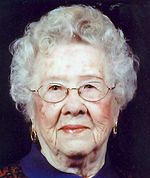 Cokie B. Turner, 104, of Frazeysburg, died at 12:50 p.m. Tuesday, October 9, 2007 at her residence. She was born August 4, 1903, in Freed, West Virginia, a daughter of the late George W. and Parentha Estella Raybuck Dye. She worked for RCA for 12 years. She was a member of the Richvale Grange, Pomona Grange, the 7th Degree Grange and Frazeysburg United Methodist Church. Cokie loved to bowl, play bingo and was an avid quilter and crocheter.

Surviving are a step son, William (Sandy) Turner of Zanesville; two step daughters, Sharon Ramsey of Titusville, FL. and Mary (Tom) Stevens of Paige, Texas; two brothers, Shirley (Emily) Dye of Duncan Falls and Everett (Jean) Dye of Big Springs, West Virginia; two special nieces, who were her caregivers, Darliss (Phillip) Mock of Frazeysburg and Donna Melrose of Winston-Salem, NC; several nieces and nephews, great nieces and nephews and great-great nieces and nephews.

Besides her parents, she was preceded in death by her first husband, Lawrence L. Moore, who died September 1962; her second husband, Dariaus McVay Turner, who died July 12, 1990; four sisters, Ada Freed, Olive Campbell, Orphia Hale and Edith Barr; five brothers, Benjamin, Casper, Bill, Ernest and Oral Dye.

Funeral services were held Friday, October 12, 2007 at the at the Bolin-Dierkes Funeral Home, Zanesville with Rev. Jeff Belt officiating. Burial was in Norwich United Presbyterian Cemetery, Norwich.

Memorial contributions may be made to Genesis Hospice, 713 Forest Avenue, Zanesville, Ohio, 43701 or to the Frazeysburg United Methodist Church, 87 West 2nd Street, Frazeysburg, Ohio, 43822.