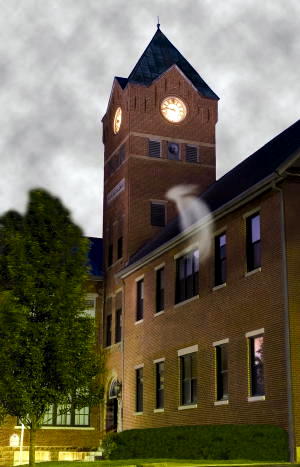 Is Glenville State College haunted on
Halloween and all year long? Some say yes!
By Annette Barnette
Cold cases, unsolved murders, and restless spirits from the past…all of these things sound like they came straight out of a movie and not Glenville State College.
There are countless eyewitness accounts from across the campus. The majority of these 'experiences' or 'sightings' happened in Clark Hall, Louis Bennett Hall, and the Administration Building. Many say the ghost in these buildings is 'Sis Linn.'
There have been stories about her haunting the GSC campus since at least the 1970's.
Sarah Louisa Linn was born in 1853. There is little known about her life. She was a graduate of Glenville Normal School in 1877, specializing in teacher education. She was the only person to graduate in 1877.
She taught classes in Glenville and Fairmont. Sarah Linn married I. L. Chrisman in June of 1905 at her home where Clark Hall currently stands. After her short marriage ended, Sarah changed her name back to Linn and ran a boarding house out of her home for female students.
In February of 1919, Sarah was found in her home murdered, bludgeoned to death…the assailant or assailants were never apprehended.
Some say she was killed by vandals breaking in for her prized wine that she made herself. We may never know the answer; we may never know who the killer or killers were. Many say 'Sis Linn' roams the campus looking for her assailant or assailants.
Five years after her murder, officials from the Glenville Normal School purchased her property, tore down the house, and built Verona Maple Hall, a modern women's dormitory for the time.
Many said the dormitory was also haunted. After Verona Maple Hall was demolished years later, the neighboring Clark Hall began to experience paranormal activity.
Glenville State College Provost and Senior Vice President Dr. Kathy Butler is among those who experienced this activity. "My most memorable experience was in December of 1998," she recalled.
"The Saturday of the Christmas parade," she was alone working in her first floor office when all of a sudden, a loud noise surrounded her.
"It was a horrific noise that sounded like every noise imaginable - banging, clanking, thumping, all together." Dr. Butler thought there was something wrong with the heating system.
She ran out of her office and up the stairs to see what was going on. When she ran up to the fourth step from mezzanine two, the door leading to the offices in mezzanine two latched.
"The very moment the door latched, the noises stopped…dead silence. I froze," Butler said.
She backed slowly down the stairs and out the door leading to the parking lot. GSC English Department Chair Dr. Wayne De Rosset was driving down the hill and saw her white as a ghost with a look on her face that something was terribly wrong.
They both went into Clark Hall to see what was going on, searched from the basement to the top mezzanine, and found that not one thing was out of place; everything was in order.
This was not the only experience Butler has had. A few years prior, Butler was in an office working in the top mezzanine when she heard the door to the stairwell open and close.
"I didn't give it much thought. I thought it was just another instructor going to his or her office," Butler said. She continued with her work and then heard someone whisper 'Kathy.'
She thought a former employee was playing a joke on her. She crept over to her door and jumped out in the hallway to scare him back.
When she jumped out into the hallway, no one was there. She was the only person in the building. Butler said "I have heard furniture moving and doors opening and closing, but I have never seen anything. There is something there."
GSC Teacher Education Instructor Connie Stout also had an experience in Clark Hall.
"It was just before the first summer session started and I was in my office on the top mezzanine," Stout said. She was grading papers when she heard a horrible noise.
"It sounded like metal chairs being thrown around and as if people were moving metal desks," Stout explained. She said that the noise lasted from ten to twelve minutes. "I thought it was Dr. Butler and the secretary moving things around downstairs," Stout said.
She stopped grading papers and thought for a moment. "It was weird though because the noise sounded like it was coming from downstairs, upstairs, and the space behind the offices."
So she decided to go downstairs to see what was going on. Just before she got to mezzanine 2 she thought to herself, "What if this is Sis Linn?" She said that at that very moment, the noises stopped…complete silence.
She left the building and found Dr. Butler and the secretary. They had been out of the building for over an hour. Stout had been in the building alone.
GSC Education Department Chair Dr. Kevin Cain was working late one evening alone in Clark Hall. He was in his office on the second floor when something peculiar happened.
"I heard metal chains dragging on the floor and then a door closed; the door sounded like a prison door closing," Cain said. He then took his work home with him and left the building for the evening. "After that, I started taking my work home all the time!" Cain exclaimed.
GSC Dean of Student Affairs Jerry Burkhammer said that on Halloween night one year, he was standing outside of the former dorms at Louis Bennett Hall with a safety officer and saw a couple of students playing with a Ouija board.
One of them started yelling. He asked what was going on, and they said they asked the board whom they were talking to. They said the board spelled out 'Sis Linn,' and she said that she was in Clark Hall at 12:00.
"It was four minutes until midnight," Burkhammer said. "We decided to walk up to Clark Hall to see if anything was happening.
At the stroke of twelve, a light came on in Clark Hall on the second level. We saw a woman hanging by a noose in the window. The officer and I ran upstairs, and when we got to the door, the light went out. We opened the door and nothing was there…everything was in order," Burkhammer said, "It is strange and unexplainable; the clock tower chimes thirteen times on Halloween night at midnight. It does this every year."
Burkhammer said that when LBH was the men's dormitory, there were strange occurrences five years in a row.
These occurrences happened in room 225 on the first night freshmen stayed in the dorms. GSC Head Track and Field Coach Cameron Perry said, "I was awaken during my first night in that room and saw a lady in white at the foot of his bed when she spoke to me."
Now that Louis Bennett Hall houses offices, faculty and staff still report unexplained noises and sightings. Connie Stout said that you often hear someone running back and forth on the fourth floor.
Pickens Hall has its share of stories as well from others who wish to remain anonymous. They say in the Scott Wing, in any room, you can hear someone playing with marbles and marbles rolling across the ceiling.
You can also hear people moving furniture on the floor above, even the top floor. Others say the Wagner Wing is home to the little girl with the doll. A former Wagner Wing Resident Assistant reports glancing in a window in the stairwell and seeing a little girl with a doll holding her hand.
Glenville State College is a beautiful campus with a past lurking in the shadows. Even after numerous experiences over the years, the people are not afraid.
"Whatever or whoever it is, it is not something that wants to hurt you," GSC Student Support Services Teacher and Counselor Captain Bill Bonnet said, "It's just something or someone wanting to let their presence be known."
See Jack Cawthon's My Encounter With Sis Linn