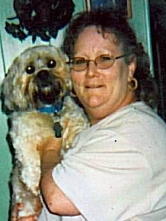 Beverly A. Morrison, age 54, of North Lawrence, Oio, went home to be with the Lord on September 27, 2007.

She was born December 23, 1952 in Spencer, a daughter of the late Brown and Retta Boggs Jarvis.  In addition to her parents, she was preceded in death by a brother, Harley Jarvis; and a half-brother, Junior Jarvis.

A resident of North Lawrence for 22 years, she formerly worked for Imperial Plastics and attended Living Water Community Church. She loved reading, working puzzles, playing with her dog, Bouncer, and her flower gardens.

She is survived by twin sister, Barbara (John) Cumpston of North Lawrence; brothers, Howard Jarvis, Ronzel (Jackie) Jarvis, Danny (Sue) Jarvis and David (Kaye) Jarvis, all of Spencer, West Virginia; and numerous nieces and nephews.

Funeral service will be Monday, October 1 at 2 p.m. in the John H. Taylor Funeral Home, Spencer, with the Rev. Regina Miller officiating.

  Friends may call Monday at the funeral home from 1 p.m. until the time of service. Burial will be in the Swank Cemetery, Spencer.

Memorials may be made to the American Cancer Society.