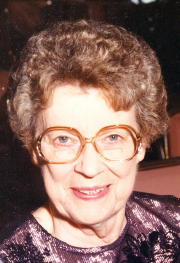 Bessie F. Lesher, 89, of Spencer, West Virginia, died Friday, September 21, 2007, in Roane General Hospital, Spencer.

She was born September 18, 1918, at Vicars Ridge, Roane County, a daughter of the late Thomas Talbert and Ida Jane Kiser Fields. In addition to her parents, she was preceded in death by two husbands, Guy Marple and Roy Lesher; two brothers, Bruce and Brady Fields; two sisters, Celia Epling and Kerry Carpenter.

Bessie retired from the Kanawha Valley Bank, Charleston, in 1982. She was a member of the Spencer Baptist Temple, Spencer.

Survivors include one son and daughter-in-law, Glenn and Cay Marple of Green Township, OH; two daughters and sons-in-law, Judith and Charles Pettit of Spencer and Dianna and Dennis Carpenter also of Spencer; one brother, Thomas L. Fields of Brimfield, OH; two sisters, Lucille Cantley of Comfort and Mabel Taylor of Elizabeth; two grandsons, "Mik" and Brady Carpenter.

A graveside service will be held Monday, September 24 at 11:00 a.m. in the Spencer Memorial Cemetery, Spencer, with the Rev. Leon B. Strickland officiating.

In lieu of flowers donations, to the Lupus Foundation of America, P.O. Box 631047, Baltimore, MD 21263-1047, are preferred.

John H. Taylor Funeral Home, Spencer, is in charge of arrangements.