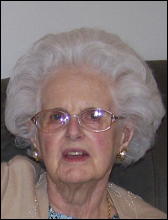 Erma Eileen Runnion, 90, of Cuyahoga Falls, Ohio, formerly of Spencer, West Virginia, died Thursday, September 20, 2007, in Traditions at Bath Road, Cuyahoga Falls, Ohio.

She was born June 21, 1917, at Spencer, a daughter of the late Homer Dale and Brooke O'Neil Bartlett. In addition to her parents, she was preceded in death by her husband, Howard Robert Runnion in 1998; one brother, Homer Bartlett.

Eileen was a homemaker and mother. She was a member of the Church of the Nazarene, Spencer.

Survivors include a daughter, Carolyn Sue Barker of Cuyahoga Falls, OH; a son, David Runnion of Yorba Linda, CA; a sister, Mildred Haddox of Parkersburg; four grandchildren, Harold Dean Barker, II, Ginger O'Brien, Jennifer Southerland and Alyson Runnion; six great grandchildren.

A funeral service will be conducted Sunday, September 23 at 2:00 p.m. in the John H. Taylor Funeral Home, Spencer, with Pastor Wade Branard and Pastor Tom Fletcher officiating. Burial will be in the Eventide Cemetery, Spencer. Friends may call at the funeral home from 4-6 p.m. Saturday.

In lieu of flowers, memorial contributions may be made to the Broadman Baptist Church, 305 E. Bath Road, Cuyahoga Falls, OH 44223.