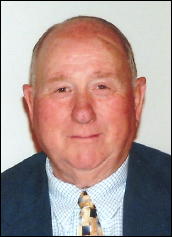 Roy Lee Ellis, 72, of Newton, West Virginia, passed away Wednesday, September 5, 2007, in the Hubbard Hospice House, Charleston, after a short illness.

Roy was born at Newton, February 20, 1935, a son of the late Lee and Nannie Nester Ellis. In addition to his parents, he was preceded in death by two brothers, Delano and Daniel; and an infant sister.

Roy retired from Hobet Mining, Julian in 1997 and he was a member of the Cornerstone Baptist Church, Newton.

Survivors include his wife of 48 years, Carolyn Rowe Ellis; son, Randall Lane (Angela) Ellis of Chattanooga, TN; daughter, Roylene Ellis Moles of Elkview; grandchildren, Garrett Ryan Ellis, Grant Austin Ellis, Lauren Ashley Ellis, and Sarah Kristen Moles; father-in-law, John Rowe of Newton; brothers, Lane (Evelyn) Ellis of White Sulphur Springs, Kent Ellis of Laurel Nursing Home, Big Otter, Frank (Anna) Ellis of Bellevue, OH; sisters, Ronda (John) Smith of Newton, Joyce Fanaza of Boardman, OH, Jean (Paul) Brannon of Dillsburg, PA, Martha (David) Cox of Charleston, Judy (Harold) DePue of Winfield and Sheila (Joey) Minardi of Daytona Beach, FL; special aunt, Floretta Nester of Newton; a host of nieces, nephews, cousins and friends.

A funeral service will be conducted Saturday, September 8 at 2:00 p.m. in the Cornerstone Baptist Church, Newton, with Pastor Roy H. Huffman officiating. Burial will be in the Laurel Point Cemetery, Newton. Friends may call at the church Friday from 5-8 p.m. and Saturday from noon until 2:00 p.m.

In lieu of flowers, donations may be made to the Cornerstone Baptist Church Building Fund, P.O. Box 614, Newton, WV 25266.

John H. Taylor Funeral Home, Spencer, is in charge of arrangements.